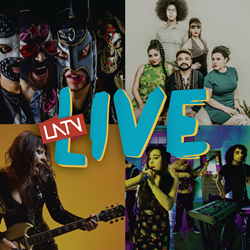 Los Angeles, CA (PRWEB) October 12, 2015
LATV Networks is proud to announce the return of LATV Live: Sessions, the third installment of the special edition concert series featuring rising rock bands and one all day, non-stop live stream of musical performances and in-studio artists interviews
The live stream of in-studio bring to a close the month long celebration of Hispanic Heritage Month, and will feature sneak previews of new digital and broadcast content.
LATV talent including En LA Zona's Keven Ramirez and Dennis Pastorizo, and LatiNation's Humberto Guida, Latino TV's Monse, plus the special appearance of Poder Local : Gramo Garage & Ryan Beltran, will bring viewers closer to the music than ever before.
The featured musical performers are: El Conjunto Nueva Ola, Cuicani, Alih Jay and Sin Color.