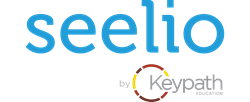 Employers today aren't just looking for a degree or GPA, but they want real evidence of the skills that students have. - Moses Lee, Seelio co-founder and group president at Keypath Education
Ann Arbor, Mich. (PRWEB) October 07, 2015
More than three dozen students from New York University, Brown University, Columbia University and other schools gathered at Google's New York City offices on Oct. 3 to participate in the Future Leaders Summit, hosted by Fullbridge, along with representatives from Google, The Daily Muse and Seelio by Keypath Education.
The Future Leaders Summits help young professionals learn, network and design innovative solutions to real-world problems. With the addition of Seelio, students can now create professional profiles to demonstrate their skills and get feedback from recruiters and Seelio experts throughout the process. Fullbridge plans to share links to student profiles with its recruiting partners and leverage Seelio again at its upcoming Future Leaders Summit in San Francisco on Nov. 7.
Jobvite's "2014 Social Recruiting Survey" underscores the importance of helping students communicate skills to employers in an online profile. Ninety-three percent of recruiters said they will review a candidate's social profile before making a hiring decision, and 83 percent stated that they look for examples of written or design work in their review.
"Employers today aren't just looking for a degree or GPA, but they want real evidence of the skills that students have. We love the work that Fullbridge does to help students build skills, and we were glad to help students at the Summit showcase their talents on Seelio," said Moses Lee, Seelio co-founder and group president at Keypath Education.
Jenni Maier, managing editor for The Daily Muse and a speaker at the Summit, agreed. "A portfolio tells a company who you are and what you care about – more than a resume," she said. "And that's what employers want to know."
At each Future Leaders Summit, students participate in a career vision workshop and learn the value of building a professional digital identity. At last weekend's NYC Future Leaders Summit, recruiters from Google, Tekscape, Eero and Simulmedia advised students on the skills needed to succeed and the value of a professional online presence. More companies are expected to participate in the upcoming San Francisco Summit.
"When creating the Summits, our main goal at Fullbridge was to connect students with their future. We teach career readiness, allow time for networking with companies, and provide them with tools to take them from college to career. Partnering with Seelio was a natural fit as their technology allows students to package their work in a way that is most relevant to employers in today's modern workplace," said Becky Karsh, executive director of Partnerships and head of the Fullbridge Summits.
To learn more about Seelio, visit seelio.com or contact Emily Keller-Logan, Seelio's director of Marketing and Communications, at emily(dot)kellerlogan(at)keypathedu(dot)com. To learn more or apply to participate in the upcoming San Francisco Summit, visit https://fullbridgeprogram.com/form/summit-sf2/.
About Seelio
Seelio by Keypath Education provides career preparation technology to colleges and universities to help students connect the dots between their educational experiences and the 21st-century skills employers want. Schools like The University of Michigan, The University of Toledo and Purdue University Calumet incorporate Seelio across the student experience to differentiate students and programs by empowering students to show how their degree has prepared them to succeed in the workplace.