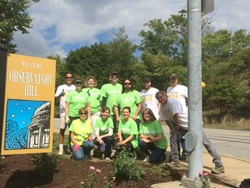 "On past community days, we focused our efforts on beautifying Observatory Hill's business district, but equally important is its greenspaces," says Pipitone.
Pittsburgh, PA (PRWEB) October 13, 2015
On Wednesday, Oct. 14, Pipitone Group, an Observatory Hill-based integrated marketing communications firm, will suspend its normal operations to participate in a day-long restoration project at nearby Riverview Park.
As part of the company's sixth annual community day, its employees-turned-volunteers will spend the day planting 100 trees native to the region. The cost of the trees was underwritten by a grant given to the Pittsburgh Parks Conservancy from ALCOA and the Western Pennsylvania Conservancy's TreeVitalize Program. The City of Pittsburgh's Department of Public Works has also contributed to the improvement of this site by cutting down the dead over-story ash trees. In addition, Pipitone Group CEO and President Scott Pipitone has donated $2,500 to the Pittsburgh Parks Conservancy to cover all ancillary costs associated with the event.
The Snyder's Point area of Riverview Park was identified as a site that has suffered loss of tree canopy from the Emerald Ash Borer, an invasive and non-native insect that kills all trees in the ash genus. The site had about 30 over-story ash trees that had died. Pipitone volunteers will be replanting 100 new trees to fill in that canopy gap and eventually provide valuable shade and other ecological benefits.
To protect the new flora, Pipitone Group volunteers will also remove non-native invasive plants that interfere with the growth of native species and build natural deer exclosures out of fallen tree branches. Like many other city parks, Riverview Park suffers from deer overpopulation. PA Department of Agriculture officials estimate that there are about 55 deer per square mile in Pittsburgh parks—the preferred density is eight per square mile.
According to Erin Copeland, senior restoration ecologist at the Pittsburgh Parks Conservancy, maintaining adequate tree coverage in urban parks benefits the community in a number of ways, including lowering local temperatures—especially during the summer—and improving the ground's ability to absorb storm water.
"We work on urban forest health issues because we want our parks to be healthy not only for us, but for future generations," says Copeland. "Keeping our parks in good shape draws people into the city park system and encourages them to be active, too."
Outside of its annual volunteer day, Pipitone Group has displayed commitment to bettering the Pittsburgh community by supporting the missions of numerous Pittsburgh nonprofits through its "InteGREAT" approach to marketing. In addition to its paid work for local nonprofits, the pro-bono marketing services that the firm has provided to local organizations amounts to hundreds of thousands of dollars of in-kind contributions to-date.
"Every year for the past six years, we've closed down the office for one day to serve our neighborhood," says Pipitone, who received a Pittsburgh Small Business Community Heroes award in 2013 from Direct Energy and Pittsburgh Magazine. "In addition to supporting the community with our 'talk,' our employees are enthusiastic about the 'walk' as well."
"On past community days, we focused our efforts on beautifying Observatory Hill's business district, but equally important is its greenspaces" adds Pipitone. "We wouldn't be ourselves if we didn't approach community improvement with an 'integrated' mindset."
About Pipitone Group
Pipitone Group is an award-winning, Pittsburgh-based integrated marketing and communications firm. Known for its collaborative, "inteGREAT" approach, Pipitone Group for over 20 years has produced strategic, creative marketing campaigns for clients in industries such as commercial building products, education, nonprofit, technology services and health care. Founded in 1992, Pipitone Group has grown into one of the region's most dynamic mid-sized agencies. Learn more at http://www.pipitonegroup.com.
Media Contact
Scott Henry
Pipitone Group
412.321.0879
shenry(at)pipitonegroup(dot)com
About Pittsburgh Parks Conservancy
The Pittsburgh Parks Conservancy was founded in December 1996 by a group of citizens concerned with the deteriorating conditions of Pittsburgh's historic city parks. A nonprofit organization, the Parks Conservancy works closely with the City of Pittsburgh under an official public-private partnership agreement to restore and improve the city's park system to its full potential. Originally including Highland, Schenley, Frick, and Riverview Parks, the scope of the Park Conservancy's work now includes a focus on community parks including Allegheny Commons, Arsenal Park, Cliffside Park, McKinley Park, and Mellon Park. To date, the Parks Conservancy has raised $84 million toward park improvements. The Parks Conservancy works with thousands of volunteers annually, stewards nearly 1,700 acres, and has completed 14 capital projects.
Media Contact
Scott Roller
412.682-7275 ex 220
sroller(at)pittsburghparks(dot)org