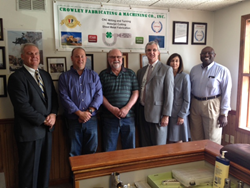 CFM, a SDVOSB, could not have moved itself into the position of being ISO 9001, AS9100 Certified, and Cyber Security Accredited without the help of the Mentor Protégé Program or without the help of NAVAIR, Lockheed Martin, AM&T and SCORE.
Binghamton, New York (PRWEB) October 22, 2015
Crowley Fabricating & Machining Co., Inc., a Small Disabled Veteran Owned Small Business (SDVOSB), entered into a U.S. Navy sponsored Mentor-Protégé Agreement with Lockheed Martin's Mission Systems and Training (MST) business in Owego in May 2012. During the period of this agreement, Lockheed Martin MST has assisted Crowley in enhancing their capabilities and increasing their participation in government and commercial contracts. The Navy's Mentor-Protégé Program is an integral part of the Department of Defense Pilot Mentor-Protégé Program that was established under Section 831 of Public Law 101-510, the National Defense Authorization Act for Fiscal Year 1991, to provide incentives for DoD contractors to assist small businesses with technology transfer and developmental needs.
Crowley Fabricating & Machining Co., Inc. initiated some strategic initiatives to enhance their business processes that were identified as exceptional growth opportunities. Of particular interest, Crowley had an assessment performed for critical business processes, by functional area, resulting in streamlined process improvements in such key measurements as cost, quality, service and speed. These recommended improvements focused on integration and activities automation, bridging Crowley Fabricating & Machining's technological investments with company strategy.
SCORE, with Lockheed Martin Owego and Crowley, facilitated the development of a detailed project plan that identified and prioritized tasks required to implement recommended improvements. This detailed plan was then briefed to Mr. Ken Carkhuff, Deputy for Small Business (NAVAIR Headquarters) and Mr. Brad Taylor, Assistant Director, Office of the Secretary of the Navy, Small Business Programs. The Navy was impressed by the project plan, the amount of data integration already in place and the fact that SCORE will continue their services after contract agreement period of performance ends in February 2016 SCORE's mentoring services are completely free to the public, "FOR THE LIFE OF YOUR BUSINESS."
For more information about SCORE and how SCORE can assist you, please call the Binghamton Chamber of Commerce, (607) 772-8860, to request an appointment. You may also visit our Chapter's website at https://greaterbinghamton.score.org.
About SCORE: SCORE is a nonprofit association dedicated to helping small businesses get off the ground, grow and achieve their goals through education and mentorship. We have been doing this for nearly fifty years. Because our work is supported by the U.S. Small Business Administration (SBA), and thanks to our network of 11,000+ volunteers, we are able to deliver our services at no charge or at very low cost.