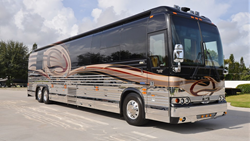 Our goal is to offer a level of service as elite as the vehicles we handle.
Stuart, FL (PRWEB) October 22, 2015
Things are really heating up here in Stuart, Florida, where The Motorhome Exchange has joined parent company Liberty Coach in an all-out sales push at the outset of the fall selling season.
For The Motorhome Exchange, which features the best selection of pre-owned Prevost coach conversions in the industry, it's a chance to reduce inventory by offering special deals on select coaches. The effort is already paying dividends, as the company recently closed two sales and has two more pending. And Motorhome Exchange operator Dave Wall sees more of the same ahead.
"Right now, we have something for buyers at every level," he points out. "On one end of the spectrum, we have a 2002 Featherlite double slide priced at just $269,000. At the other end, there's a 2008 Marathon H3-45 in virtually mint condition that we just reduced to $699,000. And there are plenty more in between, including models from Country Coach, Royale, and of course, Liberty."
Regardless of age, make and model, every coach is in tip-top condition, thoroughly inspected and detailed inside and out. "That's a Motorhome Exchange trademark," Wall says proudly. "Our goal is to offer a level of service as elite as the vehicles we handle. With Liberty's backing, prospective buyers know that every coach in our inventory is thoroughly inspected, detailed to the highest standards, and priced fairly."
"Unlike brokers, we have the ability to pay cash in full to sellers for their coaches. All of our inventory is plugged in to power and is detailed and available to be viewed at our dealership. This is rare in the pre-owned Prevost marketplace, and something no broker can match."
Those are huge advantages in what is becoming a fiercely competitive market for pre-owned coach conversions and late model Class A motorhomes. Wall notes that nearly all of the units in his current inventory are tagged as "Just Listed," meaning they've come on line within the last 30 days.
"Right now is a great time to be in the market for a pre-owned Prevost, whether you're buying, selling, or both," he finishes. "Especially here at The Motorhome Exchange."
For complete up-to-the-minute information on coaches now available at The Motorhome Exchange, visit http://themotorhomeexchange.com/inventory.
Located in Stuart Florida, The Motorhome Exchange is an independent dealership of Liberty Coach that buys, sells and trades the finest pre-owned motorhomes, including Prevost coaches and other bus conversions as well as select Class A motorhomes. For more information, please visit http://www.themotorhomeexchange.com or call Dave Wall directly at 855-334-4522