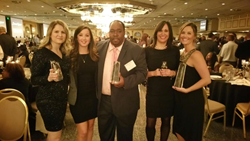 We are extremely proud of the team of professionals at 2 East Wells whose efforts have made their community stand out among such tremendous competition
Baltimore, Maryland (PRWEB) October 29, 2015
2 East Wells apartments in Federal Hill, a brand new Chesapeake Realty Partners community, was awarded 'Silver Star' distinction in their category for 2015 by the Maryland Multi-Housing Association (MMHA) at their annual Star Awards ceremony on October 22nd. In addition, the Property Manager of 2 East Wells, Cristina Istrate, was honored with 'Bronze Star' distinction for Property Manager of the Year and Melody Chapman was awarded top honors for Leasing Professional of the Year.
"Years of planning and attention to detail go into a top-rated apartment community," said Josh Fidler, Co-Chairman of 2 East Wells' owner Chesapeake Realty Partners. "We are delighted to have been recognized by our industry."
Since 1997, MMHA has recognized industry excellence at their annual Star Awards ceremony. The MMHA Star Awards are designed to honor members of the Association that exhibit the most outstanding and innovative properties and professionals in the Maryland multi-housing industry. All awards are based on nominations from the membership and are judged by seasoned property management professionals.
"We are extremely proud of the team of professionals at 2 East Wells. Their efforts have made their community stand out among tremendous competition," said Len Frenkil, President of 2 East Wells' management firm, WPM Real Estate Management.
2 East Wells apartments in Federal Hill feature a mix of Studio, 1 and 2 bedroom luxury apartments with spacious floor plans and 9 foot ceilings. The finishes include hardwood floors, granite counters, clean steel appliances, rich wood cabinetry and each apartment home features a full-size washer and dryer. The apartments are light-filled, with spacious floor plans and oversized wall to wall windows maximize some of the most spectacular views the city has to offer.
The 2 East Wells community boasts world-class amenities including resident-controlled access, garage parking, two rooftop decks, a state-of-the-art rooftop fitness center, a furnished interior courtyard, and a resident's club with coffee bar, fireplace, big screen TVs, free Wi-Fi…and much more.
The apartment homes at award-winning 2 East Wells are leasing quickly and interest in the community has been extremely high. If the current popularity is any indication of how quickly the community will fully lease, the remaining apartment homes are not likely to last long. For more information about 2 East Wells, visit their website at http://www.2EastWells.com or contact their leasing center at 410.685.7500.
About Chesapeake Realty Partners:
Headquartered in Owings Mills, Maryland, Chesapeake Realty Partners builds on more than 65-years of success in the Mid-Atlantic real estate market. CRP is actively engaged in all aspects of real estate development – land acquisition; land planning and land development; residential lot sales; construction and operation of residential rental communities; and construction and operation of commercial properties. Recent award-winning apartment communities include Winthrop (295 units; Towson, MD); Paragon (320 units; Columbia, MD); and Bainbridge Fair Lakes (150 units; Fair Lakes, VA). For additional information about CRP and its projects, go to http://www.ChesapeakeRealtyPartners.com.
About WPM Real Estate Management:
WPM Real Estate Management is an Accredited Management Organization® (AMO®) that provides property management for over 18,000 homes and 35,000 people in the Baltimore/Washington Metropolitan area. The company's primary focus is residential: multifamily, condominium, senior housing, student housing, and homeowner association communities. WPM has topped the list of leading residential managers in Greater Baltimore, ranked by local units managed, as compiled by The Baltimore Business Journal for 3 straight years. In addition, it has an extensive managed portfolio of commercial, industrial, and retail properties. WPM has been recognized as one of Baltimore's Top Workplaces by The Baltimore Sun, ranking among the top 5 large employers in both 2012 and 2013. The company employs nearly 500 employees, with 80 at the corporate headquarters in Owings Mills, Maryland and more than 400 at various on-site locations. For more information about WPM Real Estate Management, visit the WPM website at http://www.wpmllc.com.