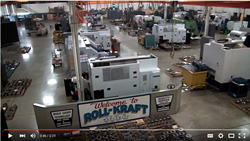 Mentor, OH. (PRWEB) November 05, 2015
In its new company overview video, Roll-Kraft invites viewers to take an inside look at how it is able to lead the industry in on-time delivery and first-time performance of its tube and pipe and roll form tooling.
The state-of-the-art Roll-Kraft facilities are home to more CNC machines than any other such facilities in North America. In the two-minute video, viewers are treated to a behind-the-scenes walkthrough of the headquarters facility in Mentor, Ohio.
The company has made significant investment and directed much of its focus towards obtaining the outstanding delivery and performance metrics shown on its website.
The new video is available on Roll-Kraft's homepage at roll-kraft.com, as well as on Roll-Kraft's YouTube channel, where visitors can also find other valuable technical video tips from Roll-Kraft's Performance Specialists.
Roll-Kraft has its headquarters in Mentor, Ohio, and maintains other facilities in Frankfort, Illinois (Roll-Kraft Northern), Ontario, Canada (Roll-Kraft Ltd.), and Houston, Texas (Roll-Kraft Texas). Calls to the company's main line, (888) 953-9400 or (440) 205-3100, are greeted by a live operator who can assist callers in quickly reaching a technician, engineer, or sales staff, who can provide immediate assistance. The fax number is (440) 205-3110. Learn more about Roll-Kraft by visiting the website at roll-kraft.com. For easy and immediate contact with Roll-Kraft that transcends time zones and working hours, the website features an easy-to-use contact form.