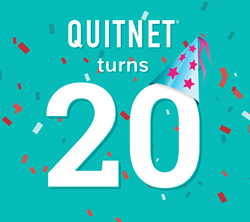 Although technology is always changing, the needs of people who want to quit stay the same," says Nathan Cobb, MD, founder of QuitNet. "Social support from those who are facing the same challenges is key. In the QuitNet community, nobody quits alone.
Boston, MA (PRWEB) November 12, 2015
MeYou Health®, a social well-being company, is celebrating the twentieth anniversary of QuitNet, the free web site and mobile app where hundreds of thousands of smokers have quit.
From its beginnings as a single Internet message board, QuitNet has evolved to become the safe, supportive place for people to share the challenges and successes of their quit journey. Members visit each day and pledge to stay quit, then connect with a community of others who are quitting or working to stay quit. By posting comments, smiling, asking questions, and exchanging messages of encouragement, smokers get the support they need, often within seconds. Members even get expert answers from accredited coaches, who answer questions right in the site's feed.
After two decades, QuitNet continues to thrive, with longtime members welcoming newcomers every day. Over that time, the system has been the subject of multiple NIH grants and studies and nearly 20 peer-reviewed academic publications. Today MeYou Health continues to iterate on QuitNet, adding new features and expanding the available forms of social support based on this legacy. "In QuitNet, people in the process of quitting interact with others across behavioral stages of change, from testing the waters to people who have been abstinent for years," states Dr. Nathan Cobb. "What we have learned from QuitNet over 20 years has informed our approach to multiple other conditions and interventions, from healthy eating to walking and exercise."
About MeYou Health
MeYou Health delivers a turnkey program that improves well-being by encouraging people to walk more, eat better, quit smoking, and make healthier decisions. The program focuses on validated engagement, scientifically proven clinical effect, and social features, with supporting services that include incentives integration, eligibility checks, real-time activity dashboards, and quarterly and annual reporting. MeYou Health, LLC is a Healthways, Inc. company.