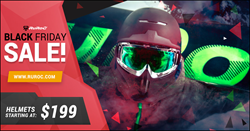 No matter the terrain - the Ruroc helmet protects from all the elements Mother Nature throws at you on the mountain.
London, England (PRWEB) November 27, 2015
RUROC is first-to-market with a full-face snowsports specific helmet designed to defend from tree line branches, backcountry rocks, terrain park rails, and sub zero wind chill. With a detachable snap-in facemask, the Ruroc helmet can be worn in both full-face mode, or as an open face helmet. The perfect connectivity between each integral part of the system works to prevent facial injury and eradicate goggle fogging, while providing maximizing rider visibility and ultimate protection.
Now available in the USA - join RUROC for Black Friday + Cyber Monday to enjoy price slashing deals on the latest gear - just in time for snow season.
Helmets from $199

RG-1 Range – $199
Kids Range – $169
RG1-X Range – $269
MAGLOC Goggles – $99
Lenses – $39
Accessories (bags, clips, gaskets, masks, visors) – 50% Off
Clothing – 30% Off
Snowboards – 25% Off
Promotion Kick Off – Thursday, November 26th 11:59 PM GMT
First Promotion Ends – Saturday, November 28th 6:59 AM
Promotion Extension Starts – Sunday, November 29th 11:59 PM GMT
Second Promotion Kick Off – Sunday, November 29th 11:59 PM GMT
Promotion Ends – Tuesday, December 1st 11:59 PM GMT
Designed exclusively by boarders and freestyle skiers, RUROC's patented system boasts seamless integration between helmet, protective facemask and anti-fog goggles, providing superior protection, and unsurpassed functionality.
Promotions available via http://www.ruroc.com only while stocks last.
Instagram: @Ruroc
Facebook: @Ruroc
About RUROC
Since 2006, British-based RUROC has been providing world leading full-face protection against backcountry rocks, terrain park rails and sub-zero wind chill with their seamlessly integrated ski and snowboard helmet technology. Out on the slopes, their patented helmets have provided skiers and snowboarders a distinctive look of combined mask, goggle, and helmet. For more information of RUROC helmets, visit http://www.ruroc.com.