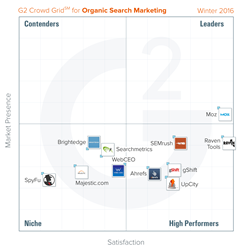 CHICAGO, IL (PRWEB) December 09, 2015
G2 Crowd, the world's leading business software review platform, today released the Winter 2016 Organic Search Marketing Software GridSM report to help businesses make the best technology decisions. Moz was named a Leader in the report, receiving a strong customer satisfaction score with a large market presence. Additionally, Raven Tools, SEMrush, gShift, UpCity and Ahrefs were named High Performers earning strong customer satisfaction marks with smaller market presence scores. Raven Tools earned the highest overall satisfaction score while Moz earned the highest overall market presence score.
The GridSM leverages customer satisfaction data reported by authenticated users along with vendor market presence determined from social and public data. Based on a combination of these scores, each software solution is categorized as Leader, High Performer, Contender, or Niche.
Key Findings:
Key findings revealed that competitive comparison was the highest-rated feature in the organic search marketing category, with an 87 percent average satisfaction score. The lowest-rated feature was social analytics, rated nearly 20 percentage points lower at 69 percent.
Other high-level insights from the refreshed GridSM revealed that while feature ratings had room for improvement, overall user satisfaction within the organic search marketing category was high. User reviews showed ease of doing business had the highest satisfaction rating of any organic search marketing metric at 90 percent. Additionally, all 11 products had a rating in this area higher than 80 percent.
There were two key changes since the Spring 2015 GridSM report. Most notably, WebCEO's satisfaction score increased by 27 points and its market presence score increased by three points. gShift also experienced improvement, with an increased satisfaction score of 11 points and an increased market presence score of six points. Lastly, Moz remained the only Leader in the category.
About the Organic Search Marketing Software GridSM report:
● The report is based on more than 350 reviews written by business professionals.
● Of the roughly 60 products listed in G2 Crowd's organic search marketing category, the ranked products each received 10 or more reviews to qualify for inclusion on the GridSM.
_______________
About G2 Crowd, Inc.
G2 Crowd, the world's leading business software review platform, leverages its 44,000-plus user reviews to drive better purchasing decisions. Technology buyers, investors, and analysts use the site to compare and select the best software based on peer reviews and synthesized social data. Co-founded by the founder and former executives from SaaS leader BigMachines and backed by roughly $12 million in capital, G2 Crowd aims to bring authenticity and transparency to business technology research. For more information, go to G2Crowd.com.
Follow us on Twitter or connect with us on Facebook or LinkedIn.