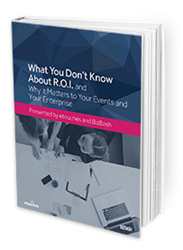 Out of 400 event professionals surveyed, only 11% said they measure event R.O.I. well.
NORWALK, Conn. (PRWEB) December 15, 2015
etouches, a top provider of cloud event management software solutions, today announced the release of a new white paper that focuses on understanding event R.O.I. and how it impacts your organization. Created in conjunction with BizBash, the leading resource for event and meeting professionals, the white paper was developed to help event organizers create a strategic plan that will allow them to determine their true event R.O.I. by better understanding the processes involved.
Surveying over 400 event professionals, etouches and BizBash found that one in four identified R.O.I. as the most important challenge for their organization. Through the whitepaper, titled What You Don't Know About R.O.I., planners will learn the processes and strategies that need to be implemented in order to properly understand and measure event R.O.I. VP of Global Marketing at etouches Nicola Rossetti said, "Planners are surrounded by technology, and today we have an incredible opportunity to bring additional value by leveraging all the data we collect by transforming it into valuable insights for event organizers. We've entered the R.O.E. or return on events era." With event aspects like marketing and content that are hard to quantify, planners need a strategic management process in place that combines different event technology to yield data that will help with both their R.O.I. and R.O.E. Other highlights include:

The true definitions of R.O.I.
How to create a strategic management process to help with budgeting
The right metrics to calculate your event's success takes more than just surveys
According to David Adler, C.E.O. and founder of BizBash, "Understanding how to measure R.O.I. is one of the most challenging conversations for event and meeting professionals. In our survey conducted with etouches, we were surprised to find that only 11% of respondents feel they measure event R.O.I. well. This white paper shows that there is a huge need in the event and meeting industry for new tools to track R.O.I. It also shows that management processes must be put in place, to ensure accurate measurement and tracking of K.P.I.s— regardless of the type of event."
Download a complimentary copy of the whitepaper at http://www.etouches.com/ROIwhitepaper
About etouches:
etouches is a global end-to-end event management software solution. The success oriented and cloud-based platform delivers innovative technology solutions to streamline the event process and increase R.O.I. Founded in 2008, etouches has assisted over 20,000 event professionals in planning, executing and measuring their events. With a focus on event sourcing, registration, marketing, logistics, engagement and data, the software solution has been able to serve more than 1,000 customers in corporations, associations, agencies and educational institutions. Headquartered in the United States in Norwalk, CT, the company has four additional global offices in the United Kingdom, Belgium, Australia and the UAE. Learn more about etouches at http://www.etouches.com.
About BizBash:
BizBash is North America's leading event marketplace for content ideas, news, and industry resources. Each month more than 200,000 unique users look to BizBash for venue discovery, event style, and tools for their next event. Visit us at http://www.bizbash.com, and follow us at @BizBash and http://www.facebook.com/bizbash.