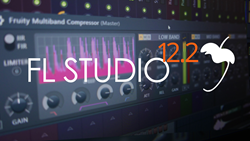 FL Studio: The fastest way from your brain to your speakers
(PRWEB) December 30, 2015
Image-Line Software have released FL Studio 12.2. FL Studio customers can update for free as part of Image-Line's Lifetime Free Updates policy for FL Studio.
FL Studio is a Digital Audio Workstation (DAW) for Windows PCs or Intel Mac/ Boot Camp. FL Studio is a fully featured sequencer that supports VST, ReWire and features its own unique plugin architecture. It comes in three editions: Signature, Producer and Fruity. Click here to see them compared.
What's New?

New vectorial interfaces - Updates for BeepMap, BooBass, EQUO, FL Keys, Fruit Kick, Big Clock, dB Meter, Delay 2, Delay Bank, Drumsynth Live, DX 10, Fast Dist, Flangus, Granulizer, LSD, Multiband Compressor, PanOMatic, Parametric EQ, Plucked!, Reeverb 2, Slicer, Soft Clipper, Soundfont Player, Stereo Enhancer, Stereo Shaper, Vocoder, WaveShaper, X-Y Controller
Harmor - 3 x tempo synced templates (2, 4 & 8 bars)
New Percussion Content - 1650 one shot drum samples in Packs > Drums > Mode Audio (121 Claps, 47 Cymbals, 110 Foley, 353 Hats, 349 Kicks, 192 Percussion, 57 Rims, 26 SFX, 48 Shakers, 286 Snares, 61 Toms).
FLAC export.
UI enhancements - Separate color and icon menu options for Playlist Tracks, Channel Rack buttons and Mixer Tracks.
Typing keyboard to piano - 15 new scale presets.
New demo projects - Winners & some finalists from the FL Studio Demo Contest in Projects > Song contests.
Many bugfixes - Check the WhatsNew.rtf in the install folder for more details.
Established in 1994, Image Line Software provides high quality music applications to the computer-based music community and is well-known for its leading digital audio workstation FL Studio (formerly FruityLoops), FL Studio Mobile for Android and iOS; high-quality synthesizers including Autogun, DirectWave, Drumaxx, Groove Machine, Harmless, Harmor, Morphine, Ogun, Poizone, Sakura, Sawer, Slicex, Sytrus and Toxic Biohazard. Innovative effect plugins including Gross Beat, Hardcore, Maximus, PitCher & Vocodex; and finally, a wide range of sample libraries used in their multi-sampler plugins DirectWave and Soundfont Player. Image-Line also produces the acclaimed DJ mixing software application Deckadance. In addition to its audio software, Image Line Software develops and distributes the web site building application, EZGenerator.
For more information, please contact:
Scott Fisher, Communications Manager
Image Line Software
E-mail: press(at)image-line(dot)com