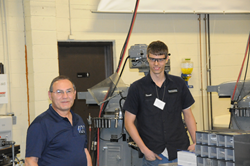 Our factories aren't dark, dirty or dangerous anymore. They're cleaner, greener, and leaner.
Milford, CT (PRWEB) October 09, 2015
Bead Electronics, a Connecticut-based electronic contact pin manufacturer, hosted plant tours at their facility in Milford, Ct on Friday, October 2 in honor of Manufacturing Day. U.S. Congresswoman Rosa DeLauro attended the event and spoke to a diverse group of attendees, including students from the Advanced Manufacturing Program at Housatonic Community College and local government representatives on the importance of debunking the negative stigmas of manufacturing.
Vince Jakiela, a student from Housatonic Community College who interned at Bead, shared his positive experience on working in manufacturing with those who attended. Bead hired Jakiela full-time when he completed his technical degree at Housatonic, and in recent months has provided him additional technical training needed as well as mentoring from long-time employees whom carry decades of tribal knowledge. Jakiela is one example of how successful today's manufacturers can be if they work together with local tech schools and state government to attract and retain young people.
"For us, Manufacturing Day is really about opening our doors to show the community what manufacturing looks like today and to help inspire a new generation of manufacturers," says Bead's corporate president, Jill Mayer. "Our factories aren't dark, dirty or dangerous anymore. They're cleaner, greener, and leaner."
Bead spends over $1.5 million annually on wages to Connecticut employees and nearly $2 million a year on material and other factory expenses to Connecticut vendors. The company is just one of 4,500 manufacturing businesses in Connecticut doing their part to fuel the economy.
About Bead Electronics
Bead Electronics, a division of Bead Industries, Inc., manufactures precision end-to-end, solid-wire, and tubular contact pins for the telecom, automotive, connector and lighting industries. Its manufacturing process, called swaging, is a high-speed, virtually scrapless cold-forming process capable of producing small, metal electronic components that are dimensionally consistent and inexpensive, making it a superior alternative to stamping and screw machining.