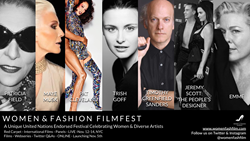 "It is this emphasis on socially minded programming... that separates the festival from numerous others" - HUFFINGTON POST
(PRWEB) November 09, 2015
The online WEBfest of the United Nations endorsed Women & Fashion FilmFest (WFF) is now live on http://www.womenfashfilm.com. Viewers can watch videos of panel discussions, films, and webseries throughout November on its website and Youtube channel WomenFashFilm. Upcoming panelists include: Laura Michalchyshyn, President, Sundance Productions; Stephanie Sharis, EVP, SnagFilms; Liz Janneman, EVP, Ovation; Patricia Field, Oscar nominated costume designer of Sex and the City; Robert Verdi, Celebrity Stylist, Roxanne Lowit, celebrity and fashion photographer; Carla Hall, Star of ABC's The Chew; and Andre Leon Talley, legendary Vogue editor. WFF is a unique platform dedicated to fostering social responsibility and opening doors for women and diverse artists.
WFF will also conduct Twitter chats on @womenfashfilm along with its media partners @Ovationtv and @Fashionone, an international network with 120MM reached. The chats start with Independent Spirit nominated actress @YolondaRoss to star in Baz Luhrmann's The Get Down on Netflix, (11/10 at 2PM) Nov. 10th and True Cost @truecostmovie, a documentary exploring the impact of fashion on people and the planet, executive produced by Livia Firth (11/10 at 3PM). Ross's movie Breaking Night and True Cost are featured on http://www.womenfashfilm.com as part of its WEBFest. WFF will announce giveaways and more upcoming chats with @Julie_Pacino, @xoBetseyJohnson and others on @womenfashfilm.
A red carpet reception on Nov. 12th, 6-8.30pm at Seaport Studios on 19 Fulton St., NYC opens the live festival with Honorary Hosts Maye Musk- model and mother of American entrepreneur Elon Musk, Emme, Pat Cleveland, Trish Goff, Anna Sui, Phillip Bloch, Ralph Rucci, Timothy Greenfield-Sanders, Ambassador Henry MacDonald, United Nations He for She Spokesperson, Ambassador Robert Van Lierop, Advisor to the President of the UN General Assembly and others. Limited tax-deductible tickets are available. The event will be filmed for FashionOne, DISH, AOL and live-streamed via Periscope and Meerkat @womenfashfilm.
WFF will honor Emme, the 1st curvy supermodel, with its Inspiration & Visionary Award at the reception. WFF will screen a special preview of #BodyBeaUtiful, her new documentary in which she asks, "How would life be different if everyone loved his/her body?" WFF will also announce its partnership with Global Fashion 4 Development.
WFF will screen 24 films/webseries, by women and emerging artists, Nov. 12-14th at Seaport Studios and Symphony Space in NYC. In collaboration with PBS, WFF will also hold a discussion with Timothy Greenfield-Sanders following a screening of The Women's List. Ticket purchasers before 11/12 can win a chance to join the red carpet and appear on TV.
WFF panels include: Women Coming of Age: A Sharing of Life Experiences - a discussion on finding self- empowerment with growing maturity with legendary supermodels Pat Cleveland, Alva Chinn, Trish Goff and Maye Musk; Start-up Women: Women Paving New Paths in Film/New Media with Susan Margolin, President, Docurama & Special Acquisitions, Cinedigm; Wendy Ettinger, Co-Founder, Chicken and Egg Productions and Gamechanger Films; Monica Elias, Founder, Elias World Media; and moderator Kibi Anderson, Senior Manager, ABC News Digital; Art & Commerce: Finding Balance presented by Spirit & Flesh Magazine; and The Art of Fashion and Film Branding with Debbie Dickinson, Supermodel, Actress, PR Guru and Fred Blankfein, Director, Producer & Assistant to Woody Allen.
"Our goal from the beginning has been to reach global audiences. We're using technology to break barriers, and now viewers can join from almost anywhere," states WFF Founder Jeanine Jeo-Hi Kim, a former Interactive TV analyst.
Sponsors: Fashion One, Elias World Media, Seaport Studios, Seaport District, Howard Hughes Corp., Empire, a new musical coming to Broadway. Visit http://www.womenfashfilm.com or email info(at)womenfashfilm(dot)com for info. Code "SUPPORT" provides 30% discount.
WHAT: 3rd Annual Women & Fashion FilmFest & SHE WEBFest
WHEN:
November 12, 2015, Thurs. - 6-8pm WFF Red Carpet Reception at Seaport Studios, 19 Fulton, Street, NYC
November 13, 2015, Fri. - 5.30-7.30pm at Seaport Studios, 19 Fulton Street, NYC
5:30PM #BodyBeaUtiful, Special preview screening of documentary by Emme, followed by discussion
6:50PM Art & Commerce: Finding Balance- Panel presented by Spirit & Flesh Magazine
November 14, 2015, Sat. - 12PM-11.10pm at Peter Norton Symphony Space, 2537 Broadway at 95th Street, NYC
12:00PM Session 1: Documentary Shorts by Women/Featuring Women
2:00PM Session 2: Webseries & Narrative Shorts by Women
3:50PM Session 3.1 Panel- Start-up Women: Women Paving New Paths in Film, Entertainment and New Media
4:35PM Session 3.2 Panel- Women Coming of Age: A Sharing of Life Experiences
5:30PM Session 4: The Women's List, Directed by Timothy Greenfield-Sanders
7:15PM Session 5.1: Jeremy Scott: The People's Designer, Directed by Vlad Yudin
9:05PM Session 5.2: Panel - The Art of Fashion and Film Branding and Public Relations Benefits - a discussion on how fashion design has set the pace in films and current branding trends
9:55PM Session 6: Fashion & Experimental Films
10:40PM Announcement of Winners
11:10PM Fin