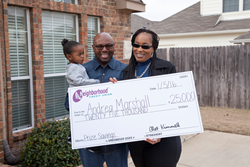 Neighborhood Credit Union is very loyal and more like a family than a financial institution.
Fort Worth, TX (PRWEB) January 11, 2016
It really pays to save, Andrea Marshall of Fort Worth learned this week.
A surprised Marshall opened her front door Tuesday morning to a group of Neighborhood Credit Union leaders who hand delivered a $25,000 prize as a reward for her good savings habits.
"I am so surprised," exclaimed Marshall, who was preparing to leave for her job at the U.S. Postal Service in Dallas. "I have never won anything like this before."
The Dallas-based credit union drew Marshall's name on New Year's Day from the ranks of its Prize Savings Account holders. Neighborhood Credit Union established the Prize Savings Account in 2008 to encourage people to save more money, at a time when the personal savings rate had dropped to one of the lowest levels in U.S. history. Neighborhood Credit Union awards a variety of prizes throughout the year, culminating with the $25,000 grand prize at the start of each new year. The more a person has saved in his or her Prize Savings Account, the more chances to win a prize.
"Andrea Marshall is a shining example of how a person can reap tangible rewards by building good savings habits," said Carolyn Jordan, senior vice president at Neighborhood Credit Union. "She is a consistent saver, setting aside a little bit of each paycheck to pay herself first."
Marshall, 47, became a member of Neighborhood Credit Union in February 1996 when she was a new employee of the post office. In the years since, she has expanded her services – and her savings – through the credit union.
"Neighborhood Credit Union has always been there for me, whether it was to start a savings account or get a personal loan, auto loan or credit card," said Marshall. "Neighborhood Credit Union is very loyal and more like a family than a financial institution."
Marshall, who was joined on the porch by her husband and their 2-year-old grandson, said she plans to use the unexpected money to "pay myself first, of course, then pay off some student loans, maybe take a little trip, and use some to pay it forward," noting two bereavement and women's ministries she would like to help.
"I am also going to open a savings account for my grandson," Marshall said with a smile. "It really pays to save!"
-----
See the Video of Marshall's Surprise: https://youtu.be/BC7qDK40S_E
How the Prize Savings Account works: Neighborhood Credit Union members receive one drawing entry for every $25 monthly average balance in their Prize Savings Accounts. The greater the savings, the greater the chance a member has of winning. Members are eligible for monthly drawings and quarterly $10,000 drawings. At the start of each year, a winner is drawn for the $25,000 grand prize based on the average monthly balance in the savings account at close of business December 31.
About Neighborhood Credit Union: The oldest credit union in Dallas (chartered April 18, 1930), Neighborhood Credit Union is a not-for-profit financial organization serving Dallas and Ellis counties, as well as the city of Arlington. With branches in Oak Cliff, North Dallas, Richardson, Arlington, Mesquite, Duncanville, Waxahachie, Lancaster, Grand Prairie and Coppell and assets topping $360 million, Neighborhood Credit Union has a membership of 32,000 and continues to welcome new members daily. For more information, call (214) 748-9393 or visit http://www.myncu.com.