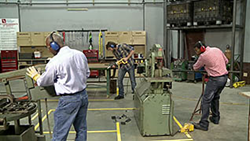 Approximately 30 million people a year in the U.S. are occupationally exposed to hazardous noise.
Novi, Michigan (PRWEB) January 26, 2016
Approximately 30 million people a year in the U.S. are occupationally exposed to hazardous noise. How many of these people are taking the proper precautions to prevent permanent hearing damage? "Preventing Hearing Loss: To The Point," the newest course published by MasteryTCN™, demonstrates to employees the safe work practices necessary to protect their hearing from hazardous noise.
This course, produced by To The Point Communications, shows employees how the ear processes sound and explains permissible exposure limits and noise reduction levels. The course continues to demonstrate the proper use of ear plugs, ear muffs and audiometric testing. Finally, the course concludes by presenting the importance of protecting one's hearing. Prevention of hearing loss is critical as hearing damage is typically permanent.
This course is published on the MasteryTCN™ courseware platform, which provides a standard learning experience for employees training across topics on MasteryTCN™ courses. Users have the ultimate flexibility in when and where they can access their training because MasteryTCN™ courses play on all devices, such as desktops, laptops, smartphones and tablets. This e-learning platform also includes learning assessments at the end of each course, which coach learners to master the material at hand.
For more information on this course visit, http://www.masterytcn.com. If you are an employer looking to train your workforce, see if your current HR Cloud Service provider offers MasteryTCN™ courses or get a referral from us here.
About To The Point Communications, Inc.
To The Point Communications, Inc. was created to fill the demand for brief, well-structured safety training programs designed for online streaming. Each training program is designed be no more than 13 minutes in length and all programs have a consistent look, style and feel. This allows users to become familiar with the brand and be confident as to what they are getting when they select a "To The Point" program from a list of available online titles. Each program quickly gets to the point about the training topic and encourages the viewer to always make it a point to be safe. All programs are available in English and Spanish.
About Mastery TCN™
Mastery TCN™ is the e-learning industry's first Training Content Network. Mastery partners with leading video content providers to co-produce the largest, standardized, workplace e-learning resource library available. Mastery goes beyond connecting customers with content, by pro-actively supporting both customers and content partners. In this way Mastery fulfills its mission of helping build more successful, effective and amazing organizations.