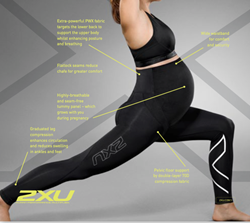 San Diego, CA (PRWEB) January 19, 2016
Global Brand 2XU, the Australian-based and globally renowned performance sports and lifestyle brand, announces their official launch of the world's first line of active maternity and postpartum tights and shorts.
The physical changes during pregnancy and the recovery that follows pushes the female body to its limit with dizziness, exhaustion, cramping, muscle fatigue, and many other potential complications. To empower soon-to-be and new mothers to maintain their active lifestyle, 2XU has applied their world leading apparel technology to their new prenatal and postnatal active maternity line.
Features include:
· Graduated leg compression enhances blood circulation and reduces swelling in ankles and feet
· Ultra-strong PWX fabric targets the lower back to support the upper body whilst enhancing posture and breathing
· Flatlock seams reduce chafing for superior comfort
· Double-layer 70D compression fabric provides pelvic support
· Prenatal tights include seam-free stomach panel that grows with the pregnancy in order to remain highly breathable
· Postnatal tights include single front panel that improves comfort while avoiding caesarian scars
Created to support high performance, endurance athletes who strive to continue to be active during pregnancy and after childbirth, the tights are also beneficial for circulation and support for any mom.
2XU compression is recognized by Olympic and professional athletes and A-list celebrities for their proven fitness-enhancing and recovery technology, including country music sensation and One Tree Hill star Jana Kramer who noted on her Instagram feed, "Love the leggings for pregnancy." Engineered with powerful Invista LYCRA and PWX FLEX fabric that is versatile, breathable and lightweight, this body firming material is ideal for moving, training and recovery when the body is pushed to the limit. 2XU Active Maternity tights can help minimize harm and overall leg fatigue when carrying the extra weight of pregnancy.
2XU's Active Maternity and postpartum compression tights and shorts are now available with prices starting at $129.95 a pair.
For additional information please visit http://www.amazon.com/dp/B017JG5VM4.
Contact:
ChicExecs PR
820 Los Vallecitos Ste A-C
San Marcos, CA 92069
310.569.6586
http://www.chicexecs.com
ChicExecs PR is an "out of the box" PR company which represents over 70 clients. ChicExecs has created an innovative approach to PR dedicated to helping small-medium businesses receive media coverage. Our revolutionary automated system is changing the face of PR. To learn more about ChicExecs visit ​http://www.chicexecs.com.