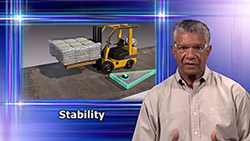 According to OSHA, there were 47 deaths in 2015 attributed to forklift accidents on the job.
Novi, MI (PRWEB) February 10, 2016
According to OSHA, there were 47 deaths in 2015 attributed to forklift accidents on the job. MasteryTCN™'s new training course, "Safe Forklift Operation: To The Point," provides safety training to help fulfill OSHA training requirements put in place to help prevent workplace accidents, including fatalities.
This course, presented with HD video, covers information for forklift operation such as pre-operational inspection, determining the lifting capacity, understanding the combined center of gravity and stability triangle, techniques for maintaining stability, lifting and placing loads, and loading dock and trailer precautions. Safe forklift operation is vital for operators and the pedestrian employees working in the area.
This course is published on the MasteryTCN™ courseware platform, which provides a standard learning experience for employees training across topics on MasteryTCN™ courses. Users have the ultimate flexibility in when and where they can access their training because these courses play on all devices, such as desktops, laptops, smartphones and tablets. This e-learning platform includes unique learning assessments at the end of each course, which coach learners to master the material at hand.
For more information on this course, visit http://www.masterytcn.com. If you are an employer looking to train your workforce, see if your current HR Cloud Service provider offers MasteryTCN™ courses or get a referral from us here.
About To The Point Communications, Inc.
To The Point Communications, Inc. was created to fill the demand for brief, well-structured safety training programs designed for online streaming. Each training program is designed be no more than 13 minutes in length and all programs have a consistent look, style and feel. This allows users to become familiar with the brand and be confident as to what they are getting when they select a "To The Point" program from a list of available online titles. Each program quickly gets to the point about the training topic and encourages the viewer to always make it a point to be safe. All programs are available in English and Spanish.
About Mastery TCN™
Mastery TCN™ is the e-learning industry's first Training Content Network. Mastery partners with leading video content providers to co-produce the largest, standardized, workplace e-learning resource library available. MasteryTCN™ then partners with HR Cloud Service providers to help employers obtain high-quality training resources through the vendors they already prefer. In this way, Mastery fulfills its mission of helping build more successful, effective and amazing organizations.