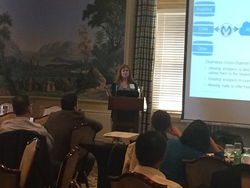 "I am very excited to hear the mobile thought leaders who are actively innovating for their clients and bringing new technical capabilities to the market as a whole. It's going to be a great day," says keynote speaker Joe Kennedy, Director, PwC
New York, NY (PRWEB) February 11, 2016
The WSTA will host a seminar on "Mobile-First Design and Seamless Delivery" on February 25, 2016 in New York City for Financial IT Professionals. Speakers at this event currently include Luncheon Speaking Sponsor: Mobiquity, Inc. and Speaking Sponsors: Akamai Technologies, Inc., InfoStretch, Red Hat, Inc., and Solstice Mobile. "I am very excited to hear the mobile thought leaders who are actively innovating for their clients and bringing new technical capabilities to the market as a whole. It's going to be a great day," says keynote speaker Joe Kennedy, Director, PricewaterhouseCoopers. View the complete agenda at http://www.wsta.org/events/event/mobile-first-design-and-seamless-delivery/.
Seminar Overview
Mobility as a customer channel enabler has attained a reasonable level of maturity. While working on new channels like wearable integration, the industry is still dealing with traditional challenges on ubiquitous employee access to enterprise resources, device security, end-user authentications and cybersecurity. In return, the firms are getting access to precious data from their mobile customers by correlating their access, interests, locations and behavioral patterns. New types of data are enabling new analytics on customer and product intelligence. Product-centric design is yielding to user-centric design. This seminar on mobile-first design and seamless delivery will include topics on responsive web design, app store enrichment, governance, mobility testing, multimodal user security, near-field communication integrations, and cloud-based service implementations. It will also cover strategic challenges to increase revenue by harnessing the seamless delivery of features and functions using the mobile platform.
Profile
For almost 50 years, the Wall Street Technology Association (http://www.wsta.org) has provided financial industry technology professionals, vendors, service providers, and consultants forums to learn from and connect with each other. The WSTA facilitates educational seminars and networking events where members meet and exchange ideas and best practices that assist them in effectively capitalizing on technology advances and dealing with financial industry business challenges. Founded in 1967, the WSTA is a not-for-profit association with a long history of evolving to meet the needs of its members.
The WSTA hosts seminars, roundtables, panel discussions, and social events. These events offer many opportunities to stay on top of leading technologies, as well as network and share information with industry colleagues. The WSTA's quarterly educational Ticker e-Zine and LimeLight e-Newsletter provide additional content and information about the WSTA and industry-related activities. The website is a dynamic resource for keeping on top of the latest information and offers access to additional resources including white papers, blogs, videos, and information about other industry events.
Financial Firm Members
WSTA financial firm members are employed at banks, brokerages, hedge funds, insurance companies and other financial firms. The WSTA currently has about 2,400 members from over 50 different firms; 81% of the members hold senior titles such as CIOs, CTOs, Vice President, Director and Manager. The remaining 19% hold other titles such as analysts, engineers, architects, etc. The WSTA also reaches over 3,200 prospective financial firm technology professionals with information about educational and networking opportunities.
Affiliates and Sponsors
Affiliates and sponsors are an integral component of the WSTA. As a not-for-profit organization, they contribute significantly by providing the resources needed to run the educational and networking programs for WSTA financial firm members. These programs strengthen the bond between members and companies that serve the technology needs of the financial community.
The WSTA currently has approximately 100 technology firms that participate in the WSTA as an affiliate or sponsor. Companies that provide cloud, big data, mobility, security, software, infrastructure, networking, social, telecom and other industry-related solutions find the WSTA an invaluable forum to create awareness, educate and develop relationships with financial industry professionals.