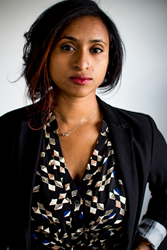 I don't believe that there is an art that can ever render something as unreasonable and as violent as human suffering.
Salt Lake City, UT (PRWEB) February 08, 2016
Salt Lake Community College will host poet Tarfia Faizullah Feb. 11 on two campuses in separate events as part of the new SLCC Poetry Reading Series.
Faizullah will lead the discussion "Creative Work As Critical Work" at 1:30 p.m. on the SLCC Taylorsville Redwood Campus, Room 207-213 in the Student Center, 4600 South Redwood Road. Later at 7 p.m. she will do a reading of her work at SLCC's South City Campus in the Multipurpose Room, 1575 S. State Street, Salt Lake City. The public is invited to both free events.
For the discussion Faizullah will talk about how creative work can critically assess our world and accomplish ends normally associated with professional like journalism or science. Faizullah is the author of "Seam," which U.S. Poet Laureate Natasha Trethewey calls "beautiful and necessary." In reviewing Seam for Slate Magazine, Jonathan Farmer observed "There is poetry here: our living language pulled into shape by hunger and intelligence." Focused around a long sequence "Interview with a Birangona," the book explores the ethics of interviewing as well as the history of the birangona, Bangladeshi women raped by Pakistani soldiers during the Liberation War of 1971.
Faizullah received a Fulbright award to travel to Bangladesh and interview the birangona. Of her book, she said, "I don't believe that there is an art that can ever render something as unreasonable and as violent as human suffering. I tried to write a book that acknowledges the limitations of that rendering as much as it is helpless before those 'images of the atrocious' and the ways in which those images are forgotten even as they continue to haunt us."
Salt Lake Community College is an accredited, student-focused, comprehensive community college meeting the diverse needs of the Salt Lake community. Home to more than 60,000 students each year, the College is Utah's leading provider of workforce development programs. SLCC is also the largest supplier of transfer students to Utah's four-year institutions and a perennial Top 10 college nationally for total associate degrees awarded. The College is the sole provider of applied technology courses in the Salt Lake area, with multiple locations, an eCampus, and nearly 1,000 continuing education sites located throughout the Salt Lake Valley. Personal attention from an excellent faculty is paramount at the College, which maintains an average class size of 20.