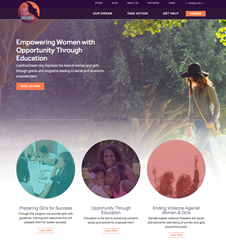 Thanks to the bold leadership of our board of directors and the tremendous support of our members, the LiveYourDream.org community is transforming the way we deliver our mission," said Soroptimist President Susan "Sam" Buchenau
Philadelphia, PA (PRWEB) February 11, 2016
Soroptimist International of the Americas, a global volunteer organization, has launched its new and improved online volunteer and activist network—LiveYourDream.org. Soroptimist created the online community to further advance its mission of improving the lives of women and girls through programs leading to social and economic empowerment. The redesigned website is part of the organization's ultimate goal to engage a new, vibrant community of activists and volunteers.
First launched in 2012, LiveYourDream.org is an online volunteer community empowering offline action, helping women and girls to achieve their professional and personal goals. Open to anyone, it offers flexible action tracks for self-motivated activists and volunteers interested in spreading awareness about and participating in Soroptimist's core programs, Live Your Dream: Education & Training Awards for Women and Dream It, Be It: Career Support for Girls. In addition, supporters can take action to end violence against women and girls, a serious cause affecting the at-risk women and girls Soroptimist serves.
"We designed a purpose-driven strategy that is evolving the LiveYourDream.org brand to better align with our mission and target audiences," stated Soroptimist Executive Director and CEO Elizabeth M. Lucas. "The result is an upgraded, interactive platform that deepens engagement by leading supporters to take action, donate, and build public awareness for the Soroptimist mission and programs."
"Thanks to the bold leadership of our board of directors and the tremendous support of our members, the LiveYourDream.org community is transforming the way we deliver our mission," said Soroptimist President Susan "Sam" Buchenau. "This redesigned site enables us to keep pace in our ever-changing technological world and reach even more women and girls who need our help. It's an exciting time to be involved with both Soroptimist and LiveYourDream.org."
In addition to providing action opportunities, LiveYourDream.org also features the new "Your Dream" blog, which serves as a hub for articles, personal stories, tips, and resources for women and girls and has helped Soroptimist secure sponsorship relationships with several companies.
After researching how like-minded organizations used digital tools to increase engagement, Soroptimist enlisted LifeBlue, the McKinney, Texas-based interactive digital creative agency specializing in the planning, creative, development, and implementation of interactive products.
"We've been working with LifeBlue over the last year planning and strategizing the best way to redesign our online platform to stay relevant in a rapidly evolving volunteer landscape," added Lucas. "As Soroptimist nears its 100th anniversary, I am confident our LiveYourDream.org community will successfully lead our organization into its second century of helping women and girls have the resources and opportunities to reach their full potential and live their dreams."
LiveYourDream.org is already helping Soroptimist accomplish aggressive strategic goals. The thriving community now boasts more than 70,000 supporters who have taken more than 52,000 actions on behalf of women and girls.
For more information contact Alyssa Ketterer, LiveYourDream.org Director, at 215-893-9000 ext. 118 or alyssa(at)soroptimist(dot)org
Headquartered in Philadelphia, Pa., Soroptimist is a global volunteer organization that improves the lives of women and girls. Soroptimist envisions a world where women and girls have the resources and opportunities to reach their full potential. More than 100,000 members and supporters in 20 countries and territories invest in the dreams of women and girls through access to education. Soroptimist's main program, Live Your Dream: Education & Training Awards for Women, has disbursed about $30 million to almost 20,000 women since 1972. Its newest program, Dream It, Be It, targets girls in secondary school who face obstacles to their future success. Soroptimist also powers LiveYourDream.org, an online volunteer and activist network offering flexible action opportunities to improve the lives of women and girls. Soroptimist is a 501(c)(3) organization that relies on charitable donations to support its programs.