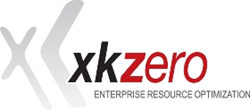 xkzero continues to make major investments in the evolution of it's products.
Chicago, Illinois (PRWEB) February 11, 2016
Mobile ERP application developer xkzero today announced the addition of Karen Foreman as mobile sales specialist for its mobile and remote sales line of products. Ms. Foreman comes to xkzero from Sage where she served in a similar capacity selling Sage Mobile Solutions and Sage CRM.
"We are very fortunate to have Karen join our team," said xkzero co-founder, Paul Ziliak. "Her knowledge of the Sage channel and her understanding of the unique needs of the Sage customers alone brings great value to us and the companies we serve. But what really sets Karen apart is her passion for mobile technology as the new standard for business. xkzero continues to invest in its products to help small and mid-sized distributors and manufacturers grow, and adding Karen to our team will only accelerate the number of companies who will realize the full impact that mobile business apps can provide their businesses - from improved profitability through increased employee and customer satisfaction."
Ms. Foreman elaborated on her decision to join xkzero. "xkzero continues to evolve its products. iSales 100 provides advanced mobile selling capabilities that can not only satisfy very unique requirements, but it is also incredibly easy to setup and use. xkzero Mobile Commerce offers enterprise caliber functionality out-of-the box for companies using Direct Store Delivery and Route Selling as a business growth strategy - which is a natural for Food and beverage producers and distributors."
About xkzero.
xkzero specializes in mobile sales, route sales and direct store delivery automation for small and mid-sized manufacturers and wholesale distribution companies. xkzero is also a certified developer for Sage X3, Sage 100 and Sage 500, creating integrated and embedded mobile solutions into some of North America's most popular and powerful ERP and accounting systems for the mid-market.