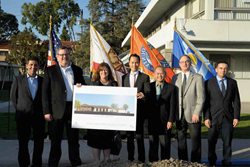 This pioneering development could open the door for other forms of collaboration to create new opportunities for affordable housing throughout the state. - Jamboree President, Laura Archuleta
Garden Grove, CA (PRWEB) February 24, 2016
Jamboree Housing Corporation and the United Methodist Church of Garden Grove broke ground on Wesley Village, an innovative, multi-use urban campus encompassing multigenerational affordable housing for families and senior age 62+ as well as educational, social and health services that will be designed specifically for and available to the larger community.
A public/private venture, the campus is being developed on 2.2 acres of the church's excess parking space and vacant land that, together, create the site for two three-story multifamily buildings that will include 47 affordable apartments for 31 working families and 16 senior households to create a true multigenerational community asset.
Jamboree's Community Impact Group is serving as the catalyst and facilitator for this community collaboration. A third building within the mixed-use development will house a Head Start Learning Center, adult day care, behavioral health services and after-school activities, plus a range of other social, education and health services.
Developed in a unique public/private partnership with Jamboree, the City of Garden Grove and the United Methodist Church of Garden Grove, the Wesley Village campus features approximately 10,000 square feet of active open space, with almost one-half of that space provided on a podium deck courtyard that is part of the family apartment building.
Campus amenities include a community center that will house the management office, a health clinic, library, and multipurpose rooms accessible to local community service providers. Outdoor amenities feature a barbecue area, tot lot, and landscaped community spaces for outdoor fitness and activities. Laundry facilities will be located in each residential building, and a combination of covered and uncovered parking spaces will be available for residents and guests of Wesley Village.
To secure the development site, Jamboree entered into a 60-year ground lease with the church that will provide ongoing financial support for the church's charitable activities.
"In keeping with one of our fundamental principles – to innovate, sponsor and evaluable new forms of community that will encourage development of individuals and families to reach their fullest potential – we see Wesley Village, which is named after the Methodist church's founder, John Wesley, as a way to provide land for the creation of a new community that will strengthen the lives of people and promote their health and well being through this unique collaboration," said Reverend Dr. Bau Dang.
Laura Archuleta, Jamboree president, said, "This pioneering development could open the door for other forms of collaboration to create new opportunities for affordable housing throughout the state."
Archuleta pointed out that Wesley Village represents a major step in advancing Jamboree's Community Impact Initiative to improve the overall health and well-being of a community, making it stronger as defined by access to quality physical and mental health services, improvement in educational outcomes, improved social bonds, access to parks and recreation facilities, and a feeling of security within a community.
"Our initiative achieves this by offering meaningful programming to both our residents and the immediate neighborhood," Archuleta explained. "This boots-on-the-ground approach gives Jamboree the best opportunity to improve the life of the community by addressing its real needs with social, education and health programs that have the best chance of being sustainable and successful in the community in which they are being offered."
In Jamboree's ongoing commitment to sustainability, Wesley Village is designed to achieve a LEED (Leadership in Energy & Environmental Design) for Homes Silver rating and to exceed California's Title 24 CalGreen energy efficiency standards by 17%. This certification validates low energy consumption, providing a cost-saving benefit to and promoting the health of residents.
Financing for Wesley Village consists of $3.7 million in HOME Funds provided by the City of Garden Grove through the U.S. Department of Housing and Urban Development (HUD) and a Housing Authority Loan; $4.2 million in permanent financing from the California Community Reinvestment Corporation; $6.3 million tax credit equity invested by Boston Financial, and $11 million in construction financing provided by U.S. Bank. United Methodist Church of Garden Grove is the ground lessor.
About Jamboree: Founded in 1990 and celebrating its 25th anniversary, Irvine, CA-headquartered Jamboree Housing Corporation is an award-winning, broad-based nonprofit housing company that develops, acquires, renovates and manages permanently affordable rental and ownership housing throughout California for working families, seniors and people with special needs. A leading community development organization, Jamboree is committed to sustaining excellence with high quality affordable housing that benefits the environment, the economy and local communities. Currently, it has $320 million in affordable housing projects in its development pipeline and a $1.1 billion asset portfolio that includes the development of and/or ownership interest in more than 7,500 homes in more than 75 California communities. Jamboree's Community Impact Group offers resident services that foster learning, health and community building at 35 Jamboree communities with designated staff at each location. For more information, visit jamboreehousing.com.