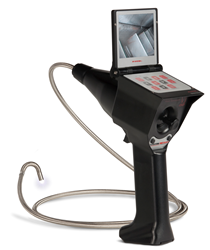 Traverse City, MI (PRWEB) March 07, 2016
RF System Lab, a leader in non-destructive testing technology, is excited to announce the arrival of the groundbreaking 6.9mm x 8M VJ Advance (VJ-ADV) video borescope.
The 6.9mm x 8M scope has all the same features as the original, flagship 6.9mm VJ Advance, including four-way joystick-controlled camera articulation, medical-grade camera technology, and trigger-activated image capture. However, as indicated by the name, the 8M VJ-ADV offers a much longer insertion tube, allowing inspection of heat exchangers, boiler tubes, process piping, and more.
Historically, RF System Lab's line of 6.9mm borescopes have been offered in lengths of 1.5 meters (4' 11''), 3 meters (9' 10''), and 5 meters (16' 5''). Their borescope experts are thrilled to now be able to offer this in-demand 8 meter (26' 3'') scope to new and existing customers.
Just one of the many industries that can benefit from the 8-meter borescope is the food manufacturing industry. Remote visual inspection of pipe welds is crucial to find surface flaws, cracks, porosity, unfilled craters, poorly formed beads, and misalignments; all of which could cause delays in production. The 6.9mm x 8M video borescope is ideal for weld inspection because of its long reach, slender size, and articulation, allowing it to easily navigate through piping.
The versatile 6.9mm x 8M VJ-ADV articulating video borescope will quickly become a must-have tool in any engineer's toolbox but don't just take our word for it. Please contact us directly to try the 6.9mm x 8M VJ-Advance for yourself. To make the decision process easy, we offer the industry's only no-cost, no-obligation demo program. Contact RF System Lab today by visiting our website or call (231) 943-1171.