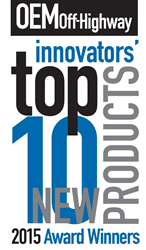 Looking at the OEM Off-Highway Top New Product winners year over year, it is exciting to see technology trends emerge within the results,
Fort Atkinson, WI (PRWEB) March 04, 2016
OEM Off-Highway™ magazine, an industry-leading publication dedicated to the entire product development team of heavy-duty on- and off-road equipment manufacturers, has announced its official Top New Products. The winners are the most viewed products on its popular online product buyer's guide, the Component Directory. To date, the Component Directory features nearly 5,000 products and services from 1,700+ companies around the world.
"Looking at the Top New Product winners year over year, it is exciting to see technology trends emerge within the results," says OEM Off-Highway Editor and Associate Publisher Michelle EauClaire-Kopier.
TOP NEW PRODUCTS OF 2015*
Advantage PressurePro ‒ PULSE Display
Brigade Electronics ‒ VBV-3XXC Series Eyeball Camera
Curtis Industries ‒ Cab System for Massey Ferguson GC1700 Series Sub-Compact Tractors
Detroit Diesel Corp. ‒ DD15 Engine
Kohler Engines ‒ KDI 3404
Maximatecc ‒ CCpilot VA 7-Inch Display
Perkins Engines ‒ 404F-E22TA Tier 4 Final Engine
Rota Engineering ‒ Hall Effect Linear Transducer with User Selectable Output
Visual Communications Company ‒ CNX 714FV Series All-In-One Indicator
"As we travel to national and international shows, we're proud to see past winners promoting their winning products at their booths with the Top New Products awards prominently displayed," EauClaire-Kopier commented.
The Top New Products are featured in the November/December 2015 print issue of OEM Off-Highway™ magazine, as well as the globally-distributed digital version of the publication and on its website, OEMOffHighway.com. Magazine subscriptions are free to qualified industry members.
About OEM Off-Highway™
For more than 30 years, OEM Off-Highway™ magazine has delivered the latest news, hottest products and emerging technologies to product development teams at heavy-duty on- and off-road original equipment manufacturers (OEMs). Editorial content concentrates on the critical issues and new product developments that impact the industry and provides the in-depth coverage and trend analysis that are of primary importance to readers.
About AC Business Media™
AC Business Media is a business-to-business media company with a portfolio of renowned brands in heavy construction, asphalt, concrete, paving, rental, sustainability, manufacturing, logistics and supply chain markets. AC Business Media delivers relevant, cutting-edge content to its audiences through its industry-leading digital properties, trade shows, videos, magazines, webinars and newsletters and provides advertisers the analytics, data and ability to reach their target audience.