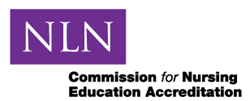 "The NLN takes pride in standards that meet the needs of faculty and students for access to the highest quality instruction and most effective nursing workforce preparation…" NLN CEO Dr. Beverly Malone
Washington, DC (PRWEB) March 07, 2016
Capping a meticulous process, the National League for Nursing's Commission for Nursing Education Accreditation(NLN CNEA) has voted to issue comprehensive new Standards of Accreditation for nursing programs across the academic spectrum. These standards, crafted from evidence-based best practices, set a high benchmark for nursing programs around the globe.
To be accredited by the NLN CNEA means a program has met five specific standards, each one measured by a broad nexus of quality indicators spelled out by interpretative guidelines included in the document. Initially released in draft form in 2014, the Standards of Accreditation were refined and finalized following a period of public review and commentary.
The NLN CNEA has the authority to accredit nursing programs that offer LPN/LVN; diploma; associate; bachelor; master's and post–master's certificates; and clinical doctorate degrees. The five standards will be applied equally to all types of nursing programs:

Standard I. Culture of Excellence: Program Outcomes
Standard II. Program Integrity: Mission, Governance, and Resources
Standard III. Culture of Excellence and Caring: Faculty
Standard IV. Culture of Excellence and Caring: Students
Standard V. Culture of Learning and Diversity: Curriculum and Evaluation Processes
Noting the significance of the vote by the Board of Commissioners, NLN CNEA executive director, Judith A. Halstead, PhD, RN, FAAN, ANEF, remarked: "This represents an important step in achieving the mission of the NLN CNEA to promote excellence and integrity in nursing education globally through an accreditation process that respects the diversity of program mission, curricula, students, and faculty; emphasizes a culture of continuous quality improvement; and influences the preparation of a caring and competent nursing workforce."
Joan Darden, PhD, RN, ANEF, chair of the 15-member Board of Commissioners that provides leadership and direction to the NLN CNEA and oversees all accreditation decisions, added: "With this historic action, the NLN CNEA has alerted schools of nursing it is ready to begin reviewing applications for pre-accreditation candidacy. I commend the board of commissioners and everyone who contributed to this process to empower the NLN CNEA."
Added NLN CEO Beverly Malone, PhD, RN, FAAN: "On behalf of the League, I congratulate the NLN CNEA on the culmination of their efforts. We take pride in a set of standards designed to meet the needs of faculty and students for access to the highest quality instruction and most effective nursing workforce preparation, reflective of the core values of the National League for Nursing: caring, integrity, diversity, and excellence."
For more information about NLN CNEA, please contact executive director Dr. Judith Halstead: 202-909-2487;
The NLN CNEA accredits nursing programs across the academic spectrum including PN/VN, diploma, associate, bachelor, master's, and clinical doctorate degree programs, and will pursue recognition by the US Department of Education as a designated Category 2, non-Title IV purpose, accrediting body.
Dedicated to excellence in nursing, the National League for Nursing is the premier organization for nurse faculty and leaders in nursing education. The NLN offers professional development, networking opportunities, testing services, nursing research grants, and public policy initiatives to its 40,000 individual and 1,200 institutional members. NLN members represent nursing education programs across the spectrum of higher education, and health care organizations and agencies.