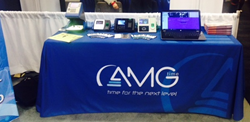 Time and attendance systems that that can fit any budget.
Los Angeles, CA (PRWEB) March 08, 2016
AMG Employee Management is joining other exhibitors to showcase their services at the California Charter Schools Conference March 14-17 in beautiful Long Beach. The company wants to bring their cost effective full-featured time systems to charter schools knowing that smart budgeting is critical for a charter school.
AMGtime Systems give charter schools options that can fit any budget. From PC-based one-time fee solutions to web-based competitively priced monthly fees, from affordable fingerprint devices to HandPunch solutions, from smart phone data capture to browser based transactions, AMGtime brings all the options for schools to choose the best solution.
Through their presence at the CCSA, AMGtime also plans to gain new insights on how else they can help charter schools be more effective in employee time management. Tony Galstyan, CEO of AMG Employee Management says "We pride ourselves on hearing our clients and building to their specific needs. Education is key to our future, so any way we can help charter schools with more efficient employee management tools so that they can focus on the teaching, we will."
AMGtime will be at booth 1351 on both exhibition days – March 15 and 16, to showcase their Time and Attendance solutions and respond to School Administrators' needs. Company representatives will show interested attendees how any of the features work and can talk about integration with other software solutions.
About the Company
With more than 20 years of experience, AMG Employee Management Inc. is a national leader in time attendance products, services and solutions. This innovative Los Angeles-based company has a passion for offering employers advanced time attendance systems that boost the efficiency and accuracy of time and payroll records and facilitate clients to select the best solution to meet their needs.