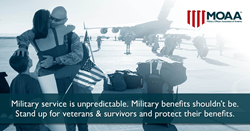 Congress cannot discount the voices of our 390,000 engaged members and this premier grass-roots event.
Alexandria, Va. (PRWEB) April 05, 2016
The Military Officers Association of America (MOAA) will hold its annual "Storming the Hill" campaign April 13. More than 160 members will urge their legislators to repeal the Survivor Benefit Plan (SBP)/Dependency and Indemnity Compensation (DIC) offset, and focus on fixing problems with military health care access, referrals, continuity of care and disproportional beneficiary fee increases as proposed in the FY 2017 defense budget.
MOAA's council and chapter leadership from every state, along with members of the association's board of directors, staff and advisory committees, will visit almost all of the 535 Capitol Hill lawmakers and urge them to:

reject disproportional health care fee increases, and
reject means-testing for military health care.
In addition to health care reform, MOAA's national leadership team also will advocate for the repeal of the SBP/DIC offset, specifically:
eliminate a $15,000 annual penalty imposed on thousands of surviving spouses — affected by the SBP/DIC offset, or military "widow's tax."
"Congress cannot discount the voices of our 390,000 engaged members and this premier grass-roots event," said retired Air Force Lt. Gen. Dana T. Atkins, president and CEO of MOAA. "MOAA national and state leaders continue to show their commitment to 'never stop serving' by pressing legislators on key issues to ensure the nation maintains a long-term perspective on its commitments to the currently serving and retired personnel and their families and surviving spouses."
MOAA began Storming the Hill in 1996 and has been recognized annually as one of the most effective advocacy organizations in the country.
This year, MOAA's major concerns are

Rejecting disproportional TRICARE fee hikes: DoD's proposed budget would restructure military health care and impose significantly higher fees on retired beneficiaries.
MOAA understands some increases in beneficiary fees might be required, but the proposals in the FY 2017 defense budget are excessive and, in certain cases (such as means-testing and imposing significant new penalties for those with the least health care access), are inappropriate.
Eliminate the SBP/DIC offset: Survivors whose military sponsors died of service-caused conditions must forfeit part of their entire military SBP annuity — up to $1,254 a month — leaving many of these most deserving survivors with annuities of only $15,000 a year
MOAA will continue to fight for repeal of the law that deducts the DIC payments from the retiree-purchased SBP annuities. In 2008, Congress authorized a Special Survivor Indemnity Allowance (SSIA) as partial recompense for SBP/DIC widows. However, the SSIA authority will expire Oct. 1, 2017, unless Congress acts this year, leaving SBP/DIC widows to suffer another $3,700 annual loss.
MOAA has a call to action at http://www.moaa.org/storming.
-End-
About MOAA:
Military Officers Association of America (MOAA) is the nation's largest and most influential association of military officers. With more than 390,000 members — active duty, former, retired, and National Guard and Reserve officers from all seven uniformed services and their spouses and surviving spouses — it is a powerful force speaking for a strong national defense and represents the interests of military officers and their families at every stage of their careers. For those who are not eligible to join MOAA, Voices for America's Troops is a nonprofit MOAA affiliate that supports a strong national defense. For more information, visit http://www.moaa.org.