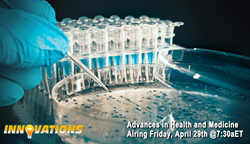 (PRWEB) April 27, 2016
DMG Productions announces the upcoming airing of Innovations with Ed Begley, Jr., scheduled to broadcast on Friday, April 29, 2016 at 7:30aET/7:30aPT via Discovery Channel.
This episode will explore Ennaid Therapeutics, a biopharmaceutical company creating disruptive innovation to safely and rapidly develop cures for mosquito-borne, emerging infectious diseases. Viewers will learn about the company's development of first-to-market, proprietary therapeutics for the 400 million people worldwide who contract—and the 3 billion people at risk of contracting—dengue virus, the world's fastest growing pandemic
It will showcase Amunix, an industry leader in the discovery and development of long-acting protein and peptide therapeutics. Viewers will be educated on how Amunix collaborates with biopharma corporations to harness the proprietary XTEN half-life extension technology applied in a wide range of therapeutic areas, delivering improved pharmaceutical safety, efficacy, and dosing.
The show will also feature Chapter 5 Recovery. Spectators will see how Chapter 5 Recovery's new Transitional Living Facility, Recovery Dynamics and Arizona accredited residential license, allows them to provide clinical services, which include Partial Hospitalization Programming (PHP), Intensive Outpatient, and Outpatient treatments.
Doctor Recommended and mother approved, the series will also educate on Sterling Global Product's line of sustainable all-natural, 100% biodegradable and eco-friendly, sanitary products.
"From science and medicine, to technology and beyond, this episode is full of cutting-edge information that is sure to enlighten and entertain," said Michele Nehls, Senior Producer for the series. "We look forward to educating the public on these exciting breakthroughs."
About Innovations & DMG Productions:
Innovations, hosted by award winning actor Ed Begley, Jr., is an information-based series geared toward educating the public on the latest breakthroughs in all areas of society. Featuring practical solutions and important issues facing consumers and professionals alike, Innovations focuses on cutting-edge advancements in everything from health and wellness to global business, renewable energy, and more.
DMG Productions (responsible for creating the Innovations show) includes personnel specialized in various fields from agriculture to medicine, independent films to regional news and more. Our field producers work closely with experts in the field to develop stories. This powerful force enables us to consistently produce commercial-free, educational programming that both viewers and networks depend on.
For more information visit: http://www.InnovationsTelevision.com or contact Michele Nehls at: (866) 496-4065 x 822 or via email at: Michele(at)innovationstelevision(dot)com.