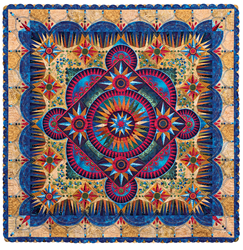 Paducah, KY (PRWEB) April 20, 2016
AQS QuiltWeek®, opening April 20, 2016, features 580 quilts from around the world. The high point of the show recognizes the artistry of today's quiltmakers as over 400 quilters in the AQS Quilt Contest compete for more than $125,000 in cash awards.
Entries in this international contest and exhibition come from around the world, with entries from 44 states and 13 countries. The winners of this year's contest have just been selected.
This year's winners share a part of the $125,000 in cash prizes. Quilts from 29 states and 5 countries have won awards at this year's contest. These winning quilts will astound the 30,000 quilters expected to visit AQS QuiltWeek in Paducah, KY, April 20 – 23, 2016.
A highlight of the top honors are:
Janome America Best of Show
ARANDANO, Marilyn Badger, St. George, UT
AQS Best Hand Workmanship Award
BEN'S MIDNIGHT GARDEN, Barbara Korengold, Chevy Chase, MD
BERNINA of America Best Home Machine Workmanship Award
HOPELESS, Janneke de Vries-Bodzinga, Kollumerzwaag, Friesland, Netherlands
APQS Best Longarm Machine Workmanship Award
MY BRUNETTE WHIG, Gail Stepanek and Jan Hutchison, New Lenox, IL
Moda Fabrics Best Wall Award
IT'S THE COWBOY WAY, Karlyn Bue Lohrenz, Billings, MT
Coats & Clark Best Wall Hand Workmanship Award
HAPPY HALLOWEEN 2, Aki Sakai, Hachiouji, Tokyo, Japan
Brother International Corporation Best Wall Home Machine Workmanship Award
A PASSION FOR PURPLE, Andrea Brokenshire, Round Rock, TX
Handi Quilter Best Wall Longarm Machine Workmanship Award
REBORN, Molly Hamilton-McNally, Tehachapi, CA
A1 Quilting Machines Best Miniature Quilt Award
DAISY CHAIN, Laura Welklin, Noblesville, IN
TinLizzie18 Judge's Recognition Award – Karen Kay Buckley
ONE CAKE, TWO CAKE, RED CAKE, BLUE CAKE, Linda Neal and Jackie Brown, McKinney, TX
TinLizzie18 Judge's Recognition Award – Ricky Tims
A SHARED DESTINY, Patricia Kennedy-Zafred, Murrysville, PA
TinLizzie18 Judge's Recognition Award – Donna Wilder
FLIGHT PATH, Mary A. Menzer, Virginia Beach, VA
A full list of winners can be viewed on the AQS QuiltWeek website at http://www.quiltweek.com/workshops/paducah-2016/.
There's still time to come see all the winners, as well as nearly 600 quilts on display in Quilt City USA® at the Paducah McCracken County Expo & Convention Center. Admission to AQS QuiltWeek includes access to all special exhibitions and the Merchant Mall. Hours are Wednesday, April 20, through Friday, April 22, from 9 a.m. to 6 p.m., and Saturday, April 23 from 9 a.m. to 4 p.m. Tickets are available at the door.
About the American Quilter's Society
The American Quilter's Society is the largest quilting membership organization in the world. For more than 30 years, AQS has been the leading voice in quilting inspiration and advice through a broad suite of products–magazines, books, live events, contests, education, workshops, online networks, patterns, fabric, and catalogs. At AQS, we believe that with inspiration and advice, the creative individual can take their quilting projects beyond what even they had imagined. The leading authors in quilting choose to publish with AQS; the best in quilt artistry select AQS events to display their work; the newest quilters learn from the knowledge and inspiration of AQS members. For more information on the American Quilter's Society, please visit http://www.americanquilter.com or call 1-270-898-7903.