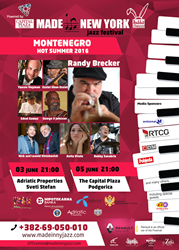 Thanks to our partner Kawai America. To the victors go the spoils, and those spoils will come in the form of prizes from a world-class musical instrument manufacturer. In addition Kawai is covering the airfare required for the winner to travel to New York
New York, NY (PRWEB) May 04, 2016
Since its first steps in 2012, the Made In New York Jazz Competition has become the fastest growing online based celebration of jazz, highly developed and evolved music genre. The Jazz Gala in New York typically features up and coming artists, jazz legends and greats, as well as the winners and finalists of the global competition. This year, on May 21st, this year's competition winner, Joao Barradas will join some of Jazz's greatest musicians on stage as one of the most promising young accordionists in Europe.
"I regard João Barradas as a beacon in the future development of accordion as a serious instrument. He is a master of all styles from classical repertoire and is the most convincing jazz improviser I have heard to date on the instrument." – Gil Goldstein
Special guest from Italy: Federico Malaman from Italy! Internet sensation and one of the most watched jazz, fusion bass players on YouTube and social media. Some of his videos performing have well over a million views, displaying great musicianship and a technical ability that is jaw dropping.
The front runners of the competition will also perform on the gala:
Karim Maurice a pianist, composer and arranger from France.
Giulia Malaspina, Italian pianist, composer and arranger graduated from Berklee College of Music.
The finalists "The Next Step Quintet" from Greece and Brazilian pianist Diogo Monzo.
"The Jazz Gala is the culminating event that demonstrates the passion for music that permeates the international jazz community," says Made In New York founder, Mikhael Brovkin. "Artists from all over the world submit their entries online for a chance to perform live with legendary jazz musicians like Rufus Reid,Yaacov Mayman, Tommy Campbell, Philip Harper, and Bobby Sanabria," continues Brovkin, "It's an opportunity of a lifetime."
According to Brovkin, jazz music has often been described as having range, diversity, richness, and beauty. It is music with rhythm, poetry, and passion that enables each artist to express his or her unique style. Since the early 20th century, jazz has included avant-garde music, jazz-rock fusion, Latin jazz, and a plethora of other styles. It is a genre of music that celebrates individuality, creativity, and the artist's ability to go beyond the conventional. The Made In New York Gala is the unifying event that lets it all happen on a global scale. The tickets are available here: http://tribecapac.org/made-in-new-york-online-jazz-competition/
Thanks to our partner Kawai America. To the victors go the spoils, and those spoils will come in the form of prizes from a world-class musical instrument manufacturer. In addition Kawai is covering the airfare required for the winner to travel to New York City to perform in the competition's gala celebration.
About the Made In New York Jazz Competition and Gala: The Made in New York Jazz Competition is the world's first and fastest growing online jazz competition. Competition entrants upload video performances in as many of the seven jazz genre categories. Registrants vote for their favorite performances. Finalists are selected through a combination of online votes and the Competition's Board of Members and Judges, which is comprised of highly regarded jazz musicians.