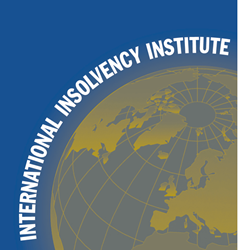 Fairfax, Virginia (PRWEB) May 09, 2016
The International Insolvency Institute is pleased to announce its 2016 Prize in International Insolvency Studies winners. This year's applicant pool was the largest to date and the winners were selected from an intensely competitive group of qualified submissions.
The 2016 III Prize winners are:
Gold Medal Winners
David Ehmke, Humboldt-University of Berlin and
Alfred Lewis, University College London
Navigating Scylla & Charybdis: International Arbitration and National Insolvency
Silver Medal Winner
Amir Adl Rudbordeh, Radboud Universiteit Nijmegen and Nottingham Trent University
An Analysis and Hypothesis on Forum Shopping in Insolvency Law
Bronze Medal Winner
Michael Guihot, Queensland University of Technology
Cross-border Insolvency: A Case for a Transaction Cost Economics Analysis
The III Prize is awarded for original legal research, commentary or analysis on topics of international insolvency and restructuring significance and on comparative international analysis of domestic insolvency and restructuring issues and developments. The Prize Competition is open to full and part-time undergraduate and graduate students and to practitioners in practice for nine years or less. Entries must not have been published prior to October 2015 and must be available to be posted on the International Insolvency Institute website at http://www.iiiglobal.org. Medal-winning entries will be considered for publication in the Norton Journal of Bankruptcy Law and Practice (West) and for inclusion in the Westlaw electronic database.
Entries were judged by a distinguished panel of leading international insolvency academics and practitioners. The Jury included: Professor Christoph Paulus, Humboldt University, Berlin; Professor Jay L. Westbrook, University of Texas, Austin; Hon. Samuel L. Bufford, Pennsylvania State University, University Park, Pennsylvania; Professor Stephan Madaus, Martin-Luther University, Halle, Germany; Professor Rosalind Mason, Queensland University of Technology, Brisbane; Professor Riz Mokal, University College, London; Professor John A.E. Pottow, University of Michigan, Ann Arbor; and Professor Ulrik Rammeskow Bang-Pedersen, University of Copenhagen, Denmark.
The Gold Medal winners will be honored at the III's Sixteenth Annual International Insolvency Conference in Tokyo, Japan on June 6-7, 2016. All Medal Winners have been invited to attend the Conference to be recognized in person.
For further details about III and the III Prize in International Insolvency Studies, please contact Shari Bedker, Executive Director of the International Insolvency Institute at 434-939-6003 or sbedker@iiiglobal.org.