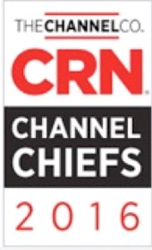 Karani was selected by CRN because of the leadership role he played in Quick Heal's expansion into the North American market last year with the Seqrite line of cloud-enabled network security solutions.
Boston, Mass. (PRWEB) May 12, 2016
• Karani selected for his dedication to the IT channel and his pivotal role in India-based Quick Heal's 2015 expansion into the North American market

Under Karani's direction, Quick Heal continues to grow its North American partner community for Seqrite, a line of comprehensive, cloud-enabled network security solutions for SMEs
Quick Heal Technologies today announced that CRN®, a brand of The Channel Company, has named Farokh Karani, Director, North America, Sales & Channels, to its prestigious list of 2016 Channel Chiefs. The executives on this annual list represent top leaders in the IT channel who excel at driving growth and revenue in their organizations through channel partners. Karani's Channel Chiefs profile can be found online here.
Channel Chief honorees are selected by CRN's editorial staff on the basis of their professional achievements, standing in the industry, dedication to the channel partner community and strategies for driving future growth and innovation. Each of the 2016 Channel Chiefs has demonstrated loyalty to and ongoing support for the IT channel by consistently promoting, defending and executing outstanding channel partner programs.
Karani was selected by CRN because of the leadership role he played in Quick Heal's expansion into the North American market last year. With Karani's guidance, Quick Heal Americas established a fast-paced North American channel program anchored by Seqrite, a comprehensive cloud-enabled line of network security solutions directed at the small- to medium-size enterprise market. In the past year, Karani has spearheaded several Quick Heal distribution agreements spanning the U.S. and Canada, with more IT channel alliances underway.
"We are honored to present the 2016 lineup of CRN Channel Chiefs, comprised of outstanding executives who move our entire industry forward by cultivating exemplary partner programs and executing cutting-edge business strategy," said Robert Faletra, CEO, The Channel Company. "They represent an extraordinary group of individuals who lead by example and serve as both invaluable advocates and innovators of the IT channel. We applaud their incredible strides and look forward to following their accomplishments in the coming year."
"I'm tremendously proud and honored to be selected by CRN during Quick Heal's inaugural year in the North American market, and to be included among this elite list of IT channel executives," said Karani. "It speaks to the quality of the Seqrite products, the integrity of our team, and, most of all, the value and business potential that Quick Heal offers its channel partners. My thanks to CRN for this outstanding recognition."
The 2016 CRN Channel Chiefs list is featured in the February 2016 issue of CRN and online at http://www.crn.com/channelchiefs.
About The Channel Company
The Channel Company enables breakthrough IT channel performance with our dominant media, engaging events, expert consulting and education and innovative marketing services and platforms. As the channel catalyst, we connect and empower technology suppliers, solution providers and end users. Backed by more than 30 years of unequalled channel experience, we draw from our deep knowledge to envision innovative new solutions for ever-evolving challenges in the technology marketplace. http://www.thechannelco.com
About Quick Heal Technologies Ltd.
Quick Heal Technologies Ltd.'s Seqrite data security product line targets small-to-midsize enterprises (SMEs) and is designed to simplify security management across endpoints, mobile devices and networks. For more information on the Quick Heal Seqrite Partner Program, please contact 855-978-6117, email us at us.sales(at)Seqrite(dot)com or visit the Quick Heal partner page. For more information on Quick Heal, visit http://www.quickheal.com.
###
CRN is a registered trademark of The Channel Company, LLC. The Channel Company logo is a trademark of The Channel Company, LLC (registration pending). All rights reserved.