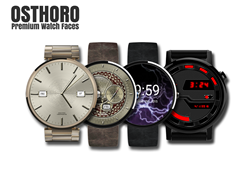 Research shows that style is a high priority for consumers. Osthoro fills this gap in the wearable watch space, providing the fashionable technology they crave.
Ontario (PRWEB) May 19, 2016
The wearables market has largely been focused on function, not form. However, knowing that style is a top consumer driver, wearable watch app company Osthoro has a unique vision to leverage technology so that consumers have a choice. They can wear whatever watch style fits their personality and the occasion, and change as often as they like. Osthoro's unique offering, which was greatly expanded in 2016, has caught the attention of top notch media outlets such as MarketWatch, Bloomberg BusinessWeek, Boston Globe, FOX, ABC, NBC and CBS. At the close of Q1, the company announced downloads of 60,000 and 11,000, respectively, for its top two most popular styles, and is estimating 30% growth across the line by the end of Q2.
That's not to say that the technology industry hasn't at least dabbled in fashion a bit: iPhones have more recently been available in interesting colors and there are some limited style choices in the fitness wearables category. However, Imtiaz Ahmed, CEO of Osthoro, approaches this space from a completely different perspective: "Our mission is fashion first, thus we have several different designs - a watch 'fashion line' of sorts - unlike the competition, who offer a few options as an afterthought. After all, research shows that style is a high priority for consumers. There's clearly an unmet need when it comes to style and technology."
This is clever. If you're a sophisticated executive, having the Executive Navigator face can give the impression of worldliness when taking clients on a golf outing. For high powered business meetings, Executive Gold is probably the right choice for an image that will set him up for success. They've even got Silicon Valley covered: envision savvy techies at the incubator kicking off the week with the Cyber watch face, and then switching to Electric Energy just in time for the weekend. The list goes on, hence Osthoro's "fashion line" mentality for wearable watches, versus the old-school "wallpaper" mentality.
Osthoro watch faces are available for most round & square smartwatches including: Sony smartwatch, Moto 360, Asus zenwatch, LG watch, Huawei Watch and more, with aggressive expansion in style choices and hardware compatibility planned for 2016.
About Osthoro:
We create the best available smart phone applications for android powered devices. Our products are available on the Google and Amazon app stores. We are highly competitive on Google Play and are the third competitor on the Amazon app store for smart watch faces. We have been profiled on news networks such as MarketWatch, Bloomberg BusinessWeek, Boston Globe, FOX, ABC, NBC and CBS. Our vision is to provide a positive experience with the use of mobile technology.