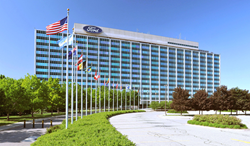 We appreciate the partnership and recognition from the SLI-Ford team, it's a great validation that R2 continues to deliver best in class performance.
Jacksonville, Florida (PRWEB) May 24, 2016
R2 Logistics, Inc., a third party logistics provider, today announced their reception of Schneider Logistics' Carrier Excellence Recognition at the 2016 Ford Carrier Meeting on May 18, 2016. The award given at the Ford Motor Company headquarters in Dearborn, Michigan was in response to R2 Logistics' exceptional service for Schneider Logistics' Ford account.
Dennis O'Rourke, Schneider Logistics Buyer, announced the award to R2 Logistics' Hunter Schwind, VP of Sales; Joe North, Detroit Branch Manager and Clayton Wheatley, Transportation Sales Representative. "Interaction with R2 Logistics from a commercial stance is always very pleasant. Their willingness to share market intelligence and discuss market trends allows for a transparent relationship. Clayton Wheatley has been instrumental in providing efficient long term solutions on lanes that have routinely presented themselves in the spot bid report," stated O'Rourke.
The Schneider Logistics Customer Service team also stated, "R2 Logistics has shown tremendous support with assisting Schneider on 'HOT' loads. Clayton Wheatley is very professional and always reaches out to Schneider letting us know he's available to assist."
In response to receiving the award, Wheatley replied, "It's been a pleasure servicing the Ford account. We have a phenomenal team in the Detroit office. It feels good to know that we are making a difference. It's a true honor to be recognized for our great customer service."
Schwind added by saying, "We appreciate the partnership and recognition from the SLI-Ford team, it's a great validation that R2 continues to deliver best in class performance."