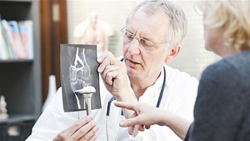 This model is about improving patient care. Patients want high-quality, coordinated care – not just for a day, but for an entire episode of care.
(PRWEB) June 15, 2016
Since 1983, the Centers for Medicare and Medicaid Services (CMS) has explored ways to bundle Medicare payments, beginning with predetermining prices associated with inpatient care, as a way to manage costs. Today, through the CMS Bundled Payments for Care Improvement initiative, healthcare providers are reimbursed a flat rate based on each episode of care, which includes pre-op testing, inpatient and outpatient care, physical therapy and X-rays.
In a Department of Health and Human Services press release from November 2015, Patrick Conway, MD, CMS' principal deputy administrator and chief medical officer, said: "This model is about improving patient care. Patients want high-quality, coordinated care – not just for a day, but for an entire episode of care. Hospitals, physicians and other providers who work together can be successful and improve care for patients in this model."
In 2015, Novant Health was among the more than 300 healthcare organizations that applied for a three-year Bundled Payment for Care Improvement (BPCI) agreement with CMS. This pilot program is testing how bundled payments for clinical episodes can result in better care, smarter spending and healthier people. It also encourages doctors, hospitals and other healthcare providers to work together to better coordinate care for patients, both when they are in the hospital and after they are discharged. Since Novant Health initially applied for the BPCI program, CMS has mandated joint replacement bundles in 67 markets across the United States. This is an early indicator of CMS' intent to expand value-based initiatives.
More than managing overall spending within an episode of care, BPCI participation allows healthcare systems to focus on the patient experience through the redesign of care delivery to better align with value-based care principles. The bundled payment model also complements healthcare systems' efforts with population health management and paves the way for involvement with other bundles, conditions and payment transformation initiatives. As changes to Medicare reimbursements continue to affect healthcare, initiatives like BPCI will ease the transition from volume to value while helping healthcare organizations build competencies to succeed in a value-driven market.
Each healthcare system enrolled in the BPCI program selected the types of treatment episodes and length of care. As a part of the pilot program, Novant Health applied for bundled payment models for joint replacement, pneumonia and congestive heart failure. The bundles include acute and post-acute care provided over a 90-day period, including hospital readmissions. By looking beyond the acute care admission, this new model encourages healthcare providers to explore how care is offered to its patients across the care continuum.
In evaluating CMS claims data, Novant Health was able to determine its greatest opportunity to create stronger care pathways and contain costs was in the post-acute care setting. As a result, the system is working to establish collaborative relationships with post-acute providers, develop tracking mechanisms to follow qualified patients and create dashboards to monitor performance and ensure that safety, quality and satisfaction is maintained.
One early success is the creation of Novant Health's first systemwide post-acute network. This network of 40 post-acute skilled nursing facilities and 40 home health agencies are committed to working with Novant Health to improve patient outcomes and reduce readmissions. The goal of this network is to look beyond the acute care admission and explore new ways to deliver quality care across the continuum. By collaborating with skilled nursing facilities and home health agencies, the network improves quality of care and patient outcomes, which will reduce readmissions and lower costs.
Other healthcare systems have also identified ways to reduce a patient's length of stay in the hospital. Data from St. Luke's Medical Center in Phoenix found that patients who participated in the system's bundled payment program from July 2014 to June 2015 did better than average for hospital length of stay — 1.2 days compared with 4.4 days for the national average — in both knee and hip replacement surgeries. St. Luke's also realized cost savings and reduced 30-day unplanned readmissions. Panorama Orthopedics in Denver reported a reduction in its patient length of stay by 50 percent through its bundled payment program.
At Novant Health, care coordinators are also being used to monitor discharged patients to ensure they are following their care plan, while identifying areas for improvement. They educate the patient about ways to avoid infection, direct them to available resources, evaluate their progress and potential adverse effects, and determine if the patient is taking prescribed medications. Patient follow-up is conducted over a 90-day period as a part of its continuum of care.
With less than a year's worth of data, it has not been fully revealed how the bundled payment model will lead to higher quality and more coordinated care at a lower cost to Medicare. However, the healthcare industry has shown that improving quality outcomes and care efficiency can have a positive effect on reducing hospital-acquired conditions and readmissions, as well as improving price and quality metrics that are visible to patients. The bundled payment model is just one more way to make the healthcare industry more transparent and less confusing to patients.