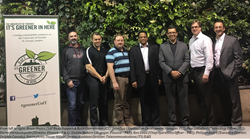 "Our partnership with Dolphin allows us to leverage our existing SAP investment with an easy to use, tailored Accounts Payable solution that provides enterprise-wide visibility and most importantly, a significant cost savings for the university."
Malvern, PA and Toronto, Canada (PRWEB) June 21, 2016
Dolphin Enterprise Solutions Corporation (Dolphin), an SAP partner and provider of solutions in support of SAP® software, congratulates the internationally-renowned University of Toronto's Facilities and Services Department for receiving a Canadian Association of University Business Officers (CAUBO) Quality and Productivity Honorable Mention Award. The CAUBO Quality and Productivity Award recognizes and shares achievements in higher education with administrators across Canada.
University of Toronto partnered with Dolphin in 2014 to standardize its accounts payable process using Dolphin's end-to-end Process Tracking System (PTS). The partnership has yielded a superior return on investment for the Facilities and Services Department since going live with its invoice workflow solution.
Specific measurable results of the project include:

Total cost savings of over $200K each year
Complete transparency into invoices, providing individuals and departments a detailed breakdown of spending to support accountability and audit capabilities
Shortened vendor payment cycles which prevent late payment penalties and help obtain discounts
Online processing eliminates duplicating efforts, freeing employees to concentrate on more high-value tasks
Removal of 80K sheets of paper from the accounts payable process, saving money, and reducing office and storage space while being more environmentally conscious
"We are truly honored to receive a CAUBO Award recognizing the success of our fully optimized Accounts Payable Solution," said Darrel Fernandopulle, Director of Financial Services at University of Toronto's Facilities and Services Department. "Our partnership with Dolphin allows us to leverage our existing SAP investment with an easy to use, tailored Accounts Payable solution that provides enterprise-wide visibility and most importantly, a significant cost savings for the university."
"Seeing our customers recognized for their achievements among their peers is the best compliment we can receive as an organization," said Brian Shannon, Chief Strategy Officer, Dolphin. "We are extremely proud of the work we were able to accomplish together and the transformative results the University of Toronto's Facilities and Services Department were able to achieve using our Process Tracking System for Accounts Payable (PTS-AP)."
Dolphin's solutions are utilized by more than a third of the FORTUNE 100™ companies deploying SAP environments. A 100 percent employee-owned business, Dolphin has averaged annual growth of 15 percent each year over the last five years thanks to increased demand of its business process management and data management solutions, as well as sales of newer products such as nearline storage (NLS) for archiving data from applications running on the SAP ERP and the HANA™ platform.
About CAUBO
Founded in 1937, CAUBO is a non-profit professional organization representing the interest of administrative and financial officers in Canadian universities and affiliated colleges. It is an umbrella organization for the many players in university administration.
About the University of Toronto
The University of Toronto has assembled one of the strongest research and teaching faculties in North America, presenting more than 85,000 top students with an intellectual environment unmatched in breadth and depth at any other Canadian school. U of T is a global research leader, second in the world only to Harvard in its volume of published research and sixth among all universities in the world for highly cited papers. It is number one in Canada and among the top universities in North America in the number of new research-based start-ups. The University of Toronto has campuses in downtown Toronto, Mississauga and Scarborough and is fully affiliated with nine renowned research and teaching hospitals.
About Dolphin:
Dolphin leads the way in business performance improvement for companies running SAP solutions and manages both data and processes. From data and information lifecycle management to end-to-end solutions for procure-to-pay and order-to-cash processes based on SAP software, Dolphin helps deliver a competitive advantage that drives cost savings, optimizes cash flows and fosters a lower total cost of ownership. Leveraging SAP technology, Dolphin's data lifecycle and business process management solutions and add-on applications with SAP-certified integration have built-in flexibility, and are designed to be tailored to each customer's specific business processes and IT environments.
The company was founded in 1995 and has offices in San Jose, CA, Philadelphia, PA and Toronto, Canada. Dolphin's smart, adaptable and proven solutions are implemented by hundreds of companies across North America and around the world. To learn more, email us at contact(at)dolphin-corp(dot)com or visit http://www.dolphin-corp.com/