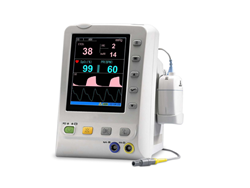 Louisville, KY (PRWEB) June 28, 2016
In a series of updates to dental regulations, the Colorado Dental Board will require practicing dentists to utilize a functioning EtCO2 monitor when administering moderate to general anesthesia.
The state's new guidelines were drafted in the wake of widespread adoption of capnography monitoring by various medical specialities, including the American Association of Oral & Maxillofacial Surgeons and the American Heart Association.
Experts consider capnography a safer alternative to traditional, standalone pulse oximetry. During a procedure requiring moderate to heavy anesthesia, abnormal CO2 readings can indicate the first sign of respiratory distress — long before a pulse oximeter would catch any potential problems.
A 2013 article from the Anesthesiology Journal, a publication of the American Society of Anesthesiologists, examines medical studies showing the effectiveness of capnography monitoring in procedural sedation.
"The results showed that respiratory depression was approximately 17 times more likely to be detected in procedural sedation cases when capnography was used in combination with pulse oximetry and visual inspection of chest rise compared to the group without capnography," the article stated.
As medical specialties adapt to changing capnography regulations, EtCO2 monitors are becoming available designed to suit the needs and workflows of varying practices.
Some units, including the DRE Echo CO2 Capnography Monitor, are cost-efficient models designed to integrate easily into existing dental practices. The DRE Echo CO2 is a compact, lightweight unit with an easy-to-use interface and works in conjunction with late-model patient monitors, helping to make the transition to capnography as easy as possible.
The DRE Waveline Touch is a full-featured patient monitor that incorporates EtCO2 monitoring with a host of other parameters: ECG, NBP, heart rate, temperature and respiration. The DRE Waveline Touch also features a large, crisp touchscreen display for easy use.
To learn more about economical capnography solutions, contact a DRE Representative at 1-800-462-8195 today.
About DRE Medical
Since 1984, DRE has worked to be a single supplier for all major operating room equipment and surgical equipment. Inc. magazine named DRE to its annual Inc. 5000 list of the nation's fastest-growing companies for three consecutive years. DRE is based in Louisville, Ky.