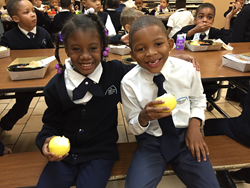 My scholars and I really enjoyed the food education opportunity offered to us. Our scholars were not only able to learn about nutrition and health, but also gained hands on experience they can take with them for years to come.
New York, NY (PRWEB) July 07, 2016
Healthy feeding and food education just became more fun for students. TABLE FOR TWO (TFT) and Alcoa Foundation are proud to share the successes of Neighborhood Charter School of Harlem (NCSH), New York, recipients of the Alcoa foundation grant; the 300 students received funding to be fed nutrient dense meals along with receiving food education to help prepare for a lifetime of healthy food choices. In addition, they were bestowed an indoor school garden, to help them to learn where the food comes from.
"In the United States, 1 in 7 children live in food insecure households where they are unable to consistently access enough nutritious food." According to Suzanne van de Raadt, Program Director, Alcoa Foundation "These children have a higher risk of obesity because healthy meals are replaced by low quality and unhealthy foods. The sheer numbers of children affected makes this a serious health issue. Healthy, balanced and tasty school meals along with food education play a critical role to address this issue. "
TFT supported over 300 students with fresh, daily prepared balanced school meals that included lean protein, fresh fruits and vegetables, calcium rich dairy foods, and whole grains. Food standards were re-assessed to exclude more than fifty ingredients including high fructose corn syrup (HFCS), trans fats, artificial ingredients and preservatives. To encourage meal acceptance, kid-inspired recipes were used and food education were provided to understand why it's important to eat healthy.
TFT aimed to assist schools in low-income neighborhoods that strive to provide healthy meals but also to implement curriculum work that incorporated food education into NCSH's aftercare classrooms once a week during the school year. As part of the education format, a new vegetable was introduced each time and the students had valuable hands-on interactive learning experiences. "My scholars and I really enjoyed the food education opportunity offered to us. Our scholars were not only able to learn about nutrition and health, but also gained hands on experience they can take with them for years to come." said Adrienne Hlowderski, third grade teacher.
To supplement the food education, an indoor garden was provided and the students had an opportunity to grow vegetables inside the school. "Since I began working at NCSH, I have wanted a garden to introduce gardening to our scholars. One hope was to get the kids to taste vegetables straight from the plant that grew them. This garden is fabulous." Dr. Laurie Nathan, school psychologist and also indoor garden caretaker. "Whenever I am by the garden, I am asked questions about it and my all-time favorite question is "May I taste another...?"
"We are grateful for the support of Alcoa Foundation, providing TFT with the opportunity to provide healthy meals and food education to Neighborhood Charter School of Harlem students," shared co-TFT USA President Mayumi Uejima-Carr. "This grant allows us to continue our mission and positively impact the lives of these students."
Visit http://www.alcoafoundation.com and usa.tablefor2.org for more information about the grant and TABLE FOR TWO initiatives.
###
In our world of 7 billion, 1 billion suffer from hunger while another 2 billion suffer from obesity and other health issues related to unhealthy eating. TABLE FOR TWO USA (TFT), a 501(C)(3) organization rights this global food imbalance. TFT partners with corporations, restaurants, schools and other food establishments to serve healthy, low-calorie, TFT- branded meals. For each one of these healthy meals served, $0.25 is donated to provide one healthy school meal for a student in need in East Africa and our local communities in the U.S. To further promote healthy eating, TFT provides food education to children around the world.
Alcoa Foundation is one of the largest corporate foundations in the U.S., with assets of approximately $480 million. Founded 64 years ago, Alcoa Foundation has invested more than $635 million in communities worldwide. In 2015, Alcoa Foundation contributed more than $22 million to nonprofit organizations throughout the world, building innovative partnerships to improve the environment and educate tomorrow's leaders for careers in manufacturing and engineering. The work of Alcoa Foundation is further enhanced by Alcoa's thousands of employee volunteers who share their talents and time to make a difference in the communities where Alcoa operates. Through the Company's signature Month of Service program, in 2015, 47 percent of Alcoa employees took part in 1,000 events across 24 countries, benefiting more than 300,000 people and 400 nonprofit organizations. For more information, visit alcoafoundation.com and follow @AlcoaFoundation on Twitter.