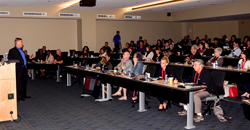 It is inspiring to see so many independent practice owners take initiative to better prepare themselves for the changes ahead. The energy is hopeful, and we believe our members are equipped with the tools they need to thrive. -Ed Keller, President of EarQ
Somerset, NJ (PRWEB) July 20, 2016
From July 18-19, EarQ and Oticon—the world's leading hearing aid manufacturer—co-hosted a member event in Somerset, NJ. These trainings become increasingly necessary as the debate surrounding the accessibility and cost of hearing healthcare continues to unfold. EarQ's Thrive events include information on innovative business and marketing strategies, unique vendor product engagement, and how to succeed in an ever-evolving industry.
EarQ's Thrive training is designed to position its members as leaders in hearing healthcare. The Food and Drug Administration has recently discussed whether or not individuals are able to self-diagnose and treat their hearing loss with personal sound amplification devices rather than hearing aids. If this becomes a reality, it will reduce the quality care audiologists and ENT physicians offer.
As a network of independent practices, EarQ recognizes how vital it is to have trained professionals diagnose the many different types of hearing conditions, offer the best solutions, and provide specialized follow-up care. With its exclusive approach to marketing, hearing technology, and patient experience, EarQ has become the primary resource for practices looking to stay ahead in the industry.
Oticon is EarQ's longest standing technology partner, and this event had one of the highest turnouts of any they have had in the past.
"It is inspiring to see so many independent practice owners take initiative to better prepare themselves for the changes ahead," said Ed Keller, President of EarQ. "The energy is hopeful, and we believe our members are equipped with the tools they need to thrive."
This Thrive event is one in a series by EarQ. A full schedule of training events is available upon request.
About EarQ:
A prestigious nationwide network of independent hearing healthcare providers, EarQ utilizes innovative business and marketing practices as well as national public awareness efforts to advocate for excellence in the industry and patient care. Through its 1,400 hearing healthcare provider locations nationwide, EarQ helps provide greater access to quality hearing healthcare services and products.
Oticon:
Since 1946, Oticon has been a manufacturer of hearing aids. This Danish-American company is currently one of the largest companies in the industry and a consistent leader in the science and technology of hearing worldwide.