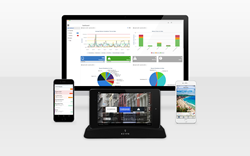 "Guests love the one-click access and the ability to schedule housekeeping and other personalized services. Staff loves the technology because it streamlines requests and allows them to anticipate needs." -- Anis Khoury, General Manager of 11 Howard
New York, NY (PRWEB) July 19, 2016
KEYPR, a fully integrated guest services platform, announced that it has been selected by 11 Howard, a luxury boutique hotel located in the heart of SoHo. KEYPR enables guest access to one-touch services via in-room tablets and a custom mobile app. Hotel staff uses KEYPR to manage guest requests in real-time and offer personalized service and communication. The announcement comes after a rollout period during the soft opening of the hotel, which saw record guest engagement with the KEYPR platform. 11 Howard is the first New York hotel partner for the Los Angeles-based startup.
"KEYPR complements 11 Howard's service philosophy, which commits to be 'never in the way but always there'," said Anis Khoury, General Manager of 11 Howard. "Guests love the one-click access and the ability to schedule housekeeping and other personalized services. Staff loves the technology because it streamlines requests and allows them to anticipate needs."
During the month of June, 91% of 11 Howard's guests engaged with the in-room tablets, which offer the ability to request and schedule services (i.e. extra towels, housekeeping), order room service, access city guides, third-party apps and their reservation details. 74% of guests engaged with in-room dining options via the tablet without ever having to pick up the phone. Perhaps the most valuable data for both the hotel and KEYPR came via the over 1.6 million ad impressions generated through the tablets. The 0.65% click-through rate on 11 Howard's in-room tablet promotions is exceedingly high when compared to the average online CTR of 0.02%. This type of insight not only provides invaluable information for the hotel to help better the guest experience but also creates incremental revenue through targeted advertising.
"We are thrilled to bring the KEYPR platform to 11 Howard and be a part of their innovative approach to hospitality," said Nizar Allibhoy, CEO of KEYPR. "Their incredible staff has adopted the technology very quickly and we are seeing some really insightful data on guest behavior and staff response times. We couldn't think of a better place or with a better team, to make our Manhattan debut."
11 Howard launched in April 2016. Since then, it has been featured in the New York Times, Wallpaper, ELLE, W Magazine and the Telegraph. To begin your 11 Howard experience, visit: http://www.11Howard.com.
About RFR
Owners of 11 Howard, RFR is a fully integrated real estate investment firm based in New York City with a core focus on select urban markets in the United States and Germany. Founded by Aby Rosen and Michael Fuchs in the early 1990's, the firm has been an active force in the New York City and German real estate market for much of the past two decades. RFR's portfolio has grown to include more than 100 properties located in select domestic and international markets. While its property portfolio is anchored in the Manhattan and key German commercial markets, RFR also has significant commercial, residential, hotel, and retail holdings. RFR has a proven track record of adding significant value to the properties it acquires through property-level repositioning and strategic financial engineering. RFR has created an organization with deep experience in all phases of the property life cycle and is positioned to take advantage of market opportunities.
About KEYPR
KEYPR is a cloud-based guest experience and management solution for hotels and luxury residences. With more than 200 properties currently under contract, KEYPR delivers a hyper-personalized, friction-free experience while creating new revenue opportunities and operational efficiencies for hotels. Guests can personalize their entertainment experience and access a directory of hotel services on-premises through an in-room tablet or the KEYPR app. Hotel operators and residence managers enjoy an integrated dashboard that gives them visibility into guest needs throughout their stay; the ability to offer targeted services to high-value guests and the ease of monitoring operational KPIs across multiple properties. KEYPR's team is comprised of Silicon Valley insiders and former executives from Hilton, Sony, Westmont Hospitality Group, CHMWarnick. Its industry partnerships include integrations with WebRezPro and other PMS Providers. It has been featured in Hotel News and Next Big Thing. For more information, visit: http://www.keypr.com.