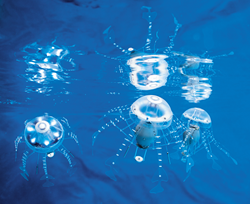 Hauppauge, NY (PRWEB) July 19, 2016
Festo features at AACC 2016, July 31- Aug. 4 in Philadelphia, the company's automation solutions for clinical diagnostic equipment. Festo automation lowers manufacturer engineering costs and boosts diagnostic speed and overall performance. (Festo AACC Booth #3939)
Equipment manufacturers partnering with Festo typically bring products to market faster. As a case in point, Rheonix, Inc. representatives will be in the Festo booth discussing the impact of Festo automation and productivity programs on the development of the company's EncompassMDx™ system – a one-stop solution for molecular diagnostic assays. The EncompassMDx automates sample preparation designed to isolate DNA and RNA from a variety of samples. Its detection capabilities combine the capacity of a microarray with the speed and resolution of qPCR in one unit.
In collaboration with New York University College of Dentistry (NYUCD), Rheonix has received funding to develop a rapid diagnostic capability for the Zika virus. The grant will allow the Rheonix/NYUCD team to pursue the development of a fully automated screening and self-confirming assay that will simultaneously detect and confirm the presence of Zika virus in a single small sample of saliva or blood. The proposed approach builds upon previous success in which the Rheonix/NYUCD team developed a dual assay for the simultaneous detection of HIV antibodies and viral RNA in a single specimen.
Festo automation on display
The EXCM is a compact Cartesian handling system for clinical automation and is one of a number of Festo systems on display at AACC. An active demonstration at AACC features the Mini-H gantry with a Z telescope slide axis for microfluidic dosing. Another Festo demonstration simulates the transfer of whole blood from the specimen to an analysis chip within a small footprint device. In this demo, a gripper removes a vial from a tray and transfers it to an integrated rotary gripping unit. The system's camera reads a barcode and approves eligibility for testing. This demo features the Festo CPX control system, which reduces the complexity of control and motion integration.
Festo also highlights the Single Axis Variable Pitch Module (SVPM). The SVPM with up to eight pipettes can aspirate or dispense from a 96 well plate, then expand to a different pitch to aspirate or dispense into a large variety of fluid containers such as tubes, chips, or vials.
AquaJellies at AACC
The AquaJellies from the Festo Bionic Learning Network are artificial, autonomous jellyfish with electric drives and intelligent, adaptive mechanical systems. AACC attendees will see the bionic jellyfish in their new 500 gallon/1,900 liter tank. The movements of the AquaJellies come as close as possible to simulating jellyfish undulating through the world's oceans. The integrated communication and sensor technology plus the real-time diagnostics enable coordinated, collective behavior among AquaJellies even in a limited space. Developments in the Festo Bionic Learning network inspire innovations in automation.
Be sure to stop by the Festo Booth #3939 at AACC 2016 to see the various active demonstrations, static displays, and the Rheonix one-stop solution for molecular diagnostic assays. And for more information on Festo clinical laboratory automation solutions, call Festo at 800-993-3786 and visit http://www.festo.com/us.
###
About Festo
Festo is a leading manufacturer of pneumatic and electromechanical systems, components, and controls for process and industrial automation. For more than 40 years, Festo Corporation has continuously elevated the state of manufacturing with innovations and optimized motion control solutions that deliver higher performing, more profitable automated manufacturing and processing equipment.
Connect with Festo: Facebook, LinkedIn, Twitter and YouTube.