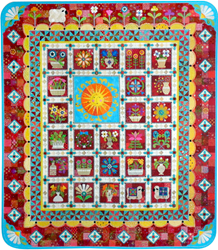 Syracuse, NY (PRWEB) July 27, 2016
American Quilter's Society, the largest quilting membership organization in the world, is pleased to announce the winners of the AQS Quilt Contest. Over $50,000 in prizes will be awarded to the winners at AQS QuiltWeek®–Syracuse, NY, taking place from July 27 through July 30, at the Oncenter, 800 South State Street, Syracuse, NY 13202.
As part of the American Quilter's Society's celebration of quilting excellence, the contest recognizes the skill and creativity of today's quiltmakers, as artists compete in the AQS Quilt Contest for more than $50,000 in cash awards. Entries come from around the world to compete in fourteen different categories.
This year's winners come from nineteen different states and five different countries. Four of this year's winning quilts are from the host state of New York. These winning quilts will astound the 15,000 quilters expected to visit AQS QuiltWeek® in Syracuse, New York, this week.
The AQS Quilt Contest Prizewinners are as follows:
Award Winners
2016 AQS QuiltWeek® – Syracuse
July 27 – 30, 2016
Best of Show Award
#116 EWE ARE MY SUNSHINE, Janet Stone, Overland Park, KS
Best Wall Quilt Award
#420 SLEEP, PRAY, SCREAM, Flora Joy, Johnson City, TN
Best Use of Color Award
#102 HOPELESS, Janneke de Vries-Bodzinga, Kollumerzwaag, Friesland, Netherlands
Best Original Design Award
#628 HAPPY HALLOWEEN 2, Aki Sakai, Hachiouji, Tokyo, Japan
Best Hand Workmanship Award
#322 SHELLABRATION, Christine Wickert, Penfield, NY
Best Home Machine Workmanship Award
#434 BAILANDO EN LA NOCHE (DANCING IN THE NIGHT), Shelly Stokes, Alexandria, MN
Best Longarm Machine Workmanship Award
#521 SILK ROAD SAMPLER, Melissa Sobotka, Richardson, TX
Large Quilts – Home Machine Quilted
First #112 WHY NOT?, Angela Petrocelli, Prescott Valley, AZ
Second #110 MANOR HOUSE CATS, Cheryl Kerestes, Wyoming, PA
Third #103 FIESTA DE LAS FLORES, Leona Harden, New Tazewell, TN
Hon. Mention #111 VERMONT CABINS, Rose Orr, Colchester, VT
Large Quilts – Longarm Machine Quilted
First #222 PARADOX, Claudia Pfeil, Krefeld, Germany
Second #228 CACHE OF CARATS, Gail Stepanek and Jan Hutchison, New Lenox, IL
Third #214 BOUQUET ROYALE, Margaret Solomon Gunn, Gorham, ME
Hon. Mention #230 THIS ONE'S FOUR EWE, Janet Stone and Laurie Tigner, Overland Park, KS
Hand Quilted Quilts
First #306 NOW I KNOW MY ABC'S, Marie Anne Coadic, Wilmington, NC
Second #307 HARU LA PRIMAVERA, Mariko Duenwald, San Francisco, CA
Third #304 ELEGANCE, Elsie M. Campbell, Ponca City, OK
Hon. Mention #305 SPRING DANCE, Barbara Clem, Rockford, IL
Wall Quilts – Home Machine Quilted
First #403 A PASSION FOR PURPLE, Andrea Brokenshire, Round Rock, TX
Second #404 PEGASUS MANDALA, Aline Bugarin and Natasha Bugarin, Campinas, São Paulo, Brazil
Third #411 CARPATHIAN MOUNTAIN SUNSET, Cathy Geier, Waukesha, WI
Hon. Mention #417 KALEIDOSCOPE GALAXY, Karon Huggler, Columbia, MO
Wall Quilts – Longarm Machine Quilted
First #518 WICKEDLY GREEN, Deborah Poole, Shelley, ID
Second #516 LUMINOUS SPLENDOR, Heidi Merrill, Glenville, NY
Third #514 LUCY, Karen Marchetti, Port St. Lucie, FL
Hon. Mention #510 SPRINGTIME IN THE GEISHA'S GARDEN, Margaret Solomon Gunn, Gorham, ME
Wall Quilts – Whimsical
First #602 BAUBLES, Cassandra Ireland Beaver, Urbana, OH
Second #624 KITTEN'S DREAMS, Hiroko Miyama and Masanobu Miyama, Chofu City, Tokyo, Japan
Third #626 GARDEN FANTASIA, Joanie Zeier Poole and Pam Levenhagen, Sun Prairie, WI
Hon. Mention #615 VIEW FROM THE MICROSCOPE: PICKLED PARAMECIA, Connie Kincius Griner, Burlington, NC
Wall Quilts – Fiber Art
First #713 TRIPTYCH—THE LEAVES OF FLORIDA, Elaine Ross, Batavia, NY
Second #717 CANTERBURY KNIGHT, Betty Jo Tatum, Ashburn, VA
Third #703 THE DREAMY LEMUR, Maria Ferri Cousins and Syrie Walsh, Great River, NY
Hon. Mention #702 BE SURE TO WEAR SOME FLOWERS IN YOUR HAIR, Kathy Collins, Rancho Santa Fe, CA
All of the winning quilts, as well as the semi-finalist works, will be on display at the Oncenter for the remainder of the week. In addition, AQS QuiltWeek will be hosting a number of other special exhibits, workshops with some of the top talent in the quilt industry, and an extensive merchant mall comprised of both local and national vendors.
Admission to AQS QuiltWeek is $14 per day and tickets can be purchased at the door. Multi-day tickets are available. Hours are Wednesday, July 27, through Friday, July 29, from 9:00 a.m. to 6:00 p.m., and Saturday, July 30, from 9:00 a.m. to 4:00 p.m. Ticket and additional information can be found at QuiltWeek.com or by calling 1-270-898-7903.
About the American Quilter's Society
The American Quilter's Society is the largest quilting membership organization in the world. For 33 years, AQS has been the leading voice in quilting inspiration and advice. At AQS, we believe that with the proper resources, the creative individual can take their quilting projects beyond what they can imagine. For more information on the American Quilter's Society, please visit http://www.americanquilter.com or call 1-270- 898-7903.