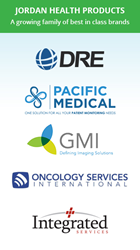 "All of the JHP anchor brands will be represented and will give customers and industry professionals a great chance to better understand the impact we can make in the marketplace." - Steve Inacker, President of JHP
(PRWEB) July 28, 2016
Jordan Health Products will attend FIME 2016 August 2-4 in Miami at Booth C.H02. In addition to supporting its growing organization, JHP will be assessing new partners for its growing network.
JHP is currently comprised of five well-positioned companies: Global Medical Imaging, DRE Medical Group, Integrated Rental Services, Oncology Services International and Pacific Medical.
"We are very excited to have a strong presence at FIME 2016," said Steve Inacker, President of JHP. "All of the JHP anchor brands will be represented and will give customers and industry professionals a great chance to better understand the impact we can make in the marketplace."
JHP continues a strategy of acquiring, partnering and growing with medical, surgical, diagnostic imaging, and oncology equipment companies to become a major industry player.
The group's business model focuses on the complete lifecycle medical equipment, including sales, install, service, repair, sourcing and refurbishing. Through organic growth and targeted acquisitions, JHP will provide a breadth of service and product offerings to a variety of customers located throughout North America and abroad.
By working together, the JHP companies and their respective management teams can offer customers a broader range of products and services while maintaining control at the local level.
Current JHP Portfolio Companies
Global Medical Imaging
Founded in 2002, GMI sells, services, repairs and installs new and refurbished medical imaging equipment, specializing in diagnostic ultrasound and nuclear medicine.
DRE Medical Group, Inc.
Since 1984, DRE has worked to be a single supplier for new and professionally refurbished operating room, critical care, and surgical equipment.
Integrated Rental Services, Inc.
Founded in 1997, Integrated Rental specializes in medical equipment rental for hospitals, surgery centers, clinics, research labs and medical facilities across the United States.
Oncology Services International Inc.
Founded in 1985, OSI is the leading independent provider of service for radiation therapy equipment, including linear accelerators and CT simulators.
Pacific Medical
Pacific Medical a leading source for reliable repair and recertified monitoring equipment. The company carries a large inventory of patient monitors and OEM parts from all major brands.