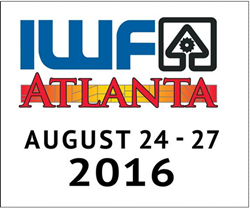 Colorado Springs, Colorado (PRWEB) August 08, 2016
Diversified Machine Systems, a leading U.S. manufacturer of 3 and 5 axis CNC routers and machining centers, is proud to announce that they will have a significant presence at the 2016 International Woodworking Fair. DMS, and their subsidiary Freedom Machine Tool, will be exhibiting at IWF and both companies will feature live CNC machining demonstrations on site.
One of the world's largest trade shows for the furniture manufacturing, architectural woodwork, cabinetry, closet building and general woodworking industries, IWF is scheduled for August 24-27 at the Georgia World Congress Center in Atlanta, GA. With over 450 exhibitors and 20,000 visitors, the 2016 International Woodworking Fair is a must-attend event for those looking for new products and innovative manufacturing solutions.
DMS and FMT will be co-exhibiting in booth 7953, where they will offering live demonstrations of a DMS 3 axis moving table machine and an FMT Patriot 5' x 10' router. They will be cutting parts and running sample programs to illustrate their superior machine construction, accuracy, and ease-of-use. The FMT staff will be using the Patriot router to produce wooden foosball tables live on the floor, and these tables will be given away to attendees throughout the show.
DMS is partnering with Creaform to demo their Go!Scan 3D portable scanner, which will integrate with their CNC machine to quickly and efficiently import product data. This user-friendly scanner is another tool DMS customers can employ to help them go from concept to production sooner. The DMS staff will also be promoting their I4.0 and OEE expertise, with specialists on hand to discuss how this technology can be implemented to optimize production efficiency.
"Our DMS and FMT CNC machines have been used extensively in the woodworking and cabinet-making industries for over 10 years with proven results" said Ed Hilligrass, Executive Vice President/CSO. Our experience has given us a unique understanding of woodworkers' specific machining needs and requirements, and we're excited to have the opportunity to share that knowledge with the IWF attendees. This is also the perfect time to debut our I4.0 and OEE programs, as part of our ongoing objective to become a total solutions provider for our clients."
Diversified Machine Systems has also announced their trade show schedule for the remainder of 2016.
IMTS: September 12-17, Chicago IL, Booth #8790
CAMX: September 26-29, Anaheim CA, Booth #F62
About Diversified Machine Systems
Diversified Machine Systems (DMS) is a leading designer and manufacturer of 3 & 5 Axis CNC routers & custom machining centers, with headquarters in Colorado Springs, CO. With more than 30 years of innovation and industry experience as an Original Equipment Manufacturer, DMS' line of CNC routers and machining centers are routinely used on materials such as wood, composites, aluminum, steel, plastics, and foams. Renowned for quality and precision, our advanced machining centers are engineered to increase efficiency and productivity, while maintaining the quality and precision our customers have come to expect from DMS.
About Freedom Machine Tool
Freedom Machine Tool (FMT), a division of Diversified Machine Systems, is a manufacturer of affordable, 3 axis CNC routers. Located in Colorado Springs, Colorado, FMT was started to address the need in the market for a cost-effective, industrial quality CNC machining solution. With over 25 years of combined experience building CNC routers, the FMT development team is committed to producing a value-priced router without sacrificing on quality or reliability.
For additional information about Diversified Machine Systems or Freedom Machine Tool, please visit:
http://www.dmscncrouters.com or http://www.freedomcnc.com
Contact: Ed Hilligrass, Executive Vice President / CSO
Phone: (719) 226-5066
ehilligrass(at)dmscncrouters(dot)com