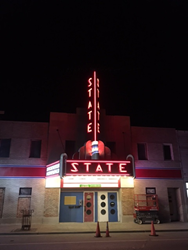 "Restoring a historical sign is a unique craft in which our team specializes," said Robb Walker.
St.Paul, Minnesota (PRWEB) August 17, 2016
What are the ingredients for a perfect summer day? The Ely Minnesota Blueberry Festival and the relighting ceremony of the Historical Ely State Theater Sign, both events held on July 30th, 2016.
John and Tanner Ott purchased the State Theater property and are in the process of restoring the theater, and partnered with Lawrence Sign to refurbish the historical sign. Working with the Ott's, City of Ely and the Historical Societies, the experienced team at Lawrence Sign renovated the sign and its lighting components in compliance with the various requirements for the unique signage.
Ruth and Paul Pengal, local residents operating a family business established in 1915, are excited about the sign. hey said, "It's awesome to have the sign restored and to bring back the memories of growing up with a lot of Tarzan and Zoro afternoon movies."
Being part of the city's renovation, or as the town leaders describe it, the renaissance of Ely, was a great opportunity for Lawrence Sign. The enthusiasm of the town was felt by everyone at Lawrence Sign.
"Restoring a historical sign is a unique craft in which our team specializes," said Robb Walker. "The different challenges are definitely worth the effort due to the significance of the sign to each community. Congratulations to Ely and to John and Tanner Ott on a job well done."
About Lawrence Sign & Nordquist Sign
Lawrence Sign, founded in 1929, designs, fabricates and installs signs for almost every industry servicing local, national and international clientele. Lawrence Sign utilizes advanced technologies and expansive facilities to provide direct in-house control of the entire sign fabrication process. The Company excels at serving companies with a multi-site national and international presence.
Nordquist Sign has been fabricating and installing interior and exterior signage, architectural elements and way-finding signage for more than 100 years. Nordquist's customer base and scope of work includes custom signage and environmental graphics for hospitals, sports facilities, themed entertainment, corporate/financial and mass transit industries. Nordquist Sign also maintains a gaming division with offices in Las Vegas, NV and St. Paul, MN to serve casino gaming markets throughout the United States.
In early 2012, Lawrence Sign combined with Nordquist Sign to unite the unique resources and capabilities of the two companies. Together, Lawrence Sign and Nordquist Sign offer their clients more than 175 years of experience in sign manufacturing and installation for all facets of the signage industry.