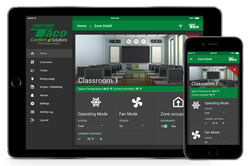 We were exposed to other projects that QA Graphics had done for other companies in our industry, and we knew to play at that level we would need help, said Danato Borelli, Director of Engineering at Taco Comfort Solutions.
ANKENY, IOWA (PRWEB) August 23, 2016
QA Graphics announces the release of a new case study that documents QA Graphics success in helping Taco Comfort Solutions upgrade their functional, templated app into one that was also well-designed and intuitive.
To download a copy of the study visit: https://www.qagraphics.com/taco_case_study/
QA Graphics, a leader in the building automation system (BAS) graphic outsourcing industry, based in Ankeny, Iowa has over a decade of experience in UX design and BAS graphics. By working with QA Graphics, Taco gained: An application with an improved user experience that embraces Taco's brand standards, a highly detailed graphics symbol library that depicts Taco's equipment, and savings in time and money.
The post production of this project also provided Taco Comfort Solution's engineers the ability to refocus their limited time on product functionality, allowing for an overall faster launch for LCI-4. "With consumer-facing products and graphics rapidly advancing in the in the HVAC industry," said Dan McCarty, owner, and president of QA Graphics, "we are excited to help companies make that shift to a more premier looking product easier."
About QA Graphics - QA Graphics is a leader in the building automation and green building industries. The company specializes in HVAC graphic development services, system graphics, floor plan graphics, and Energy Efficiency Education Dashboards™ (EEEDs). Since 2006, QA Graphics has served as an expert design resource for the building controls industry and is able to provide BAS graphics for any type of building automation. The company also provides marketing solutions such as interactive applications, 3D design and animation, UX design, videos, and more. Visit http://www.qagraphics.com to learn more.
About Taco Comfort Solutions - Taco Comfort Solutions is a third generation, family owned, American manufacturer of high quality, high efficiency heating, cooling, plumbing, and irrigation products. Headquartered in Cranston, RI, Taco is global in scope with manufacturing facilities in Rhode Island, Massachusetts, Arkansas, Ontario, Vietnam, and Italy. Its skilled employees produce precision pumps, valves and controls, air-dirt separators, heat exchangers, tanks, domestic hot water recirculation systems, and web-based building management controls. Visit http://www.taco-hvac.com to learn more.