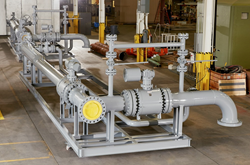 HGCA gives utilities a one-stop shopping experience from main to meter.
Milwaukee, Wis. (PRWEB) August 24, 2016
Oil and gas pipeline components manufacturer R.W. Lyall today said that it hosted a sold-out tour of its New Berlin, Wis., facility early this month as part of the Hubbell Gas Connectors & Accessories Group (HGCA). The tour was offered as a pre-summit session during this year's Midwest Energy Association Gas Operations & Technical Leadership Summit held at the Wisconsin Center in downtown Milwaukee on Aug. 9-10. HGCA Group Vice President of Sales Jake Naylor headed the tour. Hubbell, Inc. a leading international manufacturer of electrical, lighting and energy products, acquired Lyall in January, making the company part of the HGCA Group.
"The tour provided a great opportunity for the HGCA Group to showcase the capabilities of the Lyall facility in New Berlin," Lyall Marketing Manager Greg Hernandez said. "It quickly sold out, and we had more than 70 utility personnel in attendance—both current and potential customers."
Attendees were separated into groups and led through a series of seven stations, each manned by an in-house subject expert and the production cell lead. At each station, the hosts answered questions and provided an overview of the product, its features and benefits and its production process. The tour focused on product quality and capabilities.
A 16-inch pig launcher/receiver was featured on the tour as part of the segment highlighting Lyall's large diameter steel fabrication capabilities.
At the end of the tour, HGCA Vice President and General Manager Tim Hoagland gave the attendees an overview of the HGCA Group, emphasizing its ability to provide utilities with traditional gas distribution products as well as large diameter steel assemblies for the transmission and midstream markets. He said, "HGCA gives utilities a one-stop shopping experience from main to meter."
About Midwest Energy Association
Midwest Energy Association(MEA) was founded as a trade association over 100 years ago by distribution utilities, whose vision was to improve safety and efficiency. Today, utilities and energy delivery companies around the globe benefit from MEA's industry learning seminars, operations summits and other events. Members collaborated to develop EnergyU, the world's premier online training and testing system for gas and electric distribution utilities.
About R.W. Lyall
Lyall was founded in 1970 by Robert W. Lyall. Lyall built the company to manufacture the best pipeline components available to the natural gas industry. With an emphasis on quality and a business philosophy that put the needs of the customer above all else, Lyall succeeded in that mission. Today, the entire Lyall team maintains this legacy of quality with continually expanding operations that now include 200,000 square feet of manufacturing space in two facilities in Corona, Calif. and New Berlin, Wis. More than 250 employees produce and distribute 22 Lyall product lines across North America. In January, Lyall was acquired by Burndy, LLC, an affiliate of Hubbell Inc. based out of Shelton, Conn., and is now part of the Hubbell Gas Connectors & Accessories (HGCA) group.