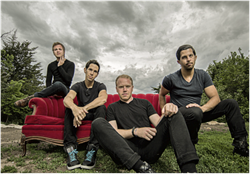 Duncan, OK (PRWEB) August 25, 2016
When you look at the achievements of the Manhattan-based pop-rock band Cloverton, you might think they'd scripted their success. Winners of the first ever ROCK THE CAMP contest hosted by TobyMac and Camp Electric, Cloverton propelled onto the Christian music scene in 2011, scoring the #1 most downloaded song in the history of KLOVE radio for their first single "Take Me into the Beautiful." After racking up countless numbers of miles travelling all over the world playing shows, festivals, and even cruises, the four piece Christian indie outfit focuses on the future and the release of their highly anticipated EP.
The beginning for Cloverton almost never happened either, as front man Lance Stafford dealt with stage fright, was informally trained in music, and had no desire to follow in his father's musical footsteps. Upon taking a position as a worship leader in a small town Kansas church, the band would slowly take shape with the help of his twin brother Layne Stafford (bass) and Kirby LeMoine (drums). With the addition of Josh Svorinic (guitars), the foursome strives to not only put on a great live show but also to create an environment for God's love to speak through the sounds, melodies, and lyrics the band creates on stage. Cloverton has married rich sounds with glimmering lyrical motion in this worshipful offering. The entire collaboration is an effort that should offer hope and encouragement to people at all places on their journeys (taken from Today's Christian Music).
"Our roots as a band were worship, so that's our ultimate goal," says Stafford. "We hope that our individual expressions of worship will both captivate and motivate others to do the same. It looks different for everyone, and we understand that. We also understand that a worship song can be defined many different ways. And while you may not hear many of our songs being played in a typical Sunday corporate worship gathering, we believe that all of our songs carry worshipful meaning and expression."
Performance scheduled for 7:30 PM on Aug 27 in the Simmons Center Theatre in Duncan, OK. Tickets may be purchased in advance at http://www.chisholmtrailarts.com or by phone at 580-252-2900 x 240, as well as available at the box office the evening of the performance.