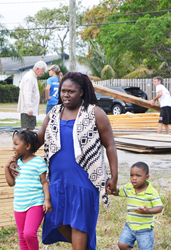 To us, there is no greater benefit than providing the dream of home ownership to a deserving family in our community. We are proud to come together with our realtor partners and clients to make this dream a reality
Boca Raton, FL (PRWEB) September 09, 2016
A father's infectious pride and joy punctuates Gethro Phaitus' words as he describes his 5-year-old daughter Geica's excitement about their brand new home.
"Geica tells everyone she sees about her new home and that she will behave for her new bedroom set" Phaitus said. Phaitus is a Haitian immigrant who first came to the United States with his wife in 2001 and will be living out the American dream of owning his own home this September, a feeling he describes as the greatest feeling in the world. "The apartment we have now has mold that's giving me a lot of trouble. It's been six months with mold. I'm just so grateful that me and my family will now have a place that we can finally call our own."
Phaitus, who's wife Yvescar just had their third child on September 7, will be given the keys to their newly constructed 3 bedroom home in Del Ray Beach, four blocks off of Atlantic Avenue, following a ribbon cutting ceremony the morning of September 10th.
This dream is becoming a reality thanks to Matt Weaver (NMLS ID175651) and Avi Mizrahi (NMLS ID# 1147906), Vice Presidents and Managers of the Boca Raton, FL branch of F inance of America Mortgage.
Through their Just1Brick Initiative, Weaver and Mizrahi have raised $80,000 to fund the construction of the Phaitus' new home by Habitat for Humanity of South Beach County.
Established in 2015, the Just1Brick Initiative is driven by Weaver and Mizrahi along with the team's Realtor partners and clients. To date, Just1Brick has raised $80,000, efforts it hopes to continue with other families in the South Florida area in the years to come.
"To us, there is no greater benefit than providing the dream of home ownership to a deserving family in our community. We are proud to come together with our realtor partners and clients to make this dream a reality" says Matt Weaver.
Here's how it worked: Prior to the launch of the Just1Brick campaign, Weaver and Mizrahi committed themselves to complete 535 transactions by year end of 2015, which would fund a complete home. The Just1Brick Initiative donated $150 for every transaction completed throughout the campaign year to Habitat for Humanity on behalf of both the homebuyer and their real estate agent. By year end, Weaver and Mizrahi closed 538 transactions, which was amazingly three sales beyond their goal, and equaled the total cost of a Habitat for Humanity home.
Everyone involved with the Just1Brick Initiative was invited to participate further, from lot selection to build out and they will also receive full recognition for their contribution.
Weaver and Mizrahi are looking forward to handing over the keys to the Phaitus family on September 10th.
About Finance of America Mortgage LLC
Finance of America Mortgage is a national, full service mortgage banker, offering a diverse portfolio of home loan products. Our knowledgeable and seasoned mortgage specialists are committed to delivering an innovative, high-touch, high-tech lending experience for consumers, brokers, and our industry partners across the country. FAM employs 1,500 loan officers in branch offices throughout the country as well as representatives authorized to sell FAM products. Company NMLS# 1071.